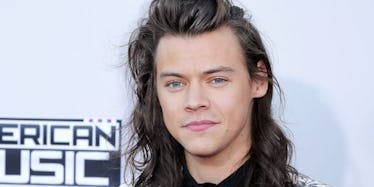 Harry Styles' Solo Debut Trailer Is Here And Fans Are Losing Their Minds
REX/Shutterstock
What's that sound, you ask?
Oh, that's just the sound of One Directioners everywhere are freaking out over the upcoming release of Harry Styles' solo debut!
The 23-year-old singer-songwriter sparked mass hysteria after premiering a commercial promoting the release of new his new solo single on April 7.
If you've been a loyal 1D fan and you've been waiting for Harry Styles to embark on his solo journey, it is my pleasure to announce it is finally happening!
A 30-second clip aired during Saturday night's episode of UK's "The X Factor," showing Harry Styles mysteriously walking toward a blinding light as he opens a door.
Just before he walks through the door, the camera pans to his eyes and the date April 7 appears.
It is truly a cinematic masterpiece, one that you would only expect from someone less than a month away from changing the game forever.
Check out Harry Styles' mysterious commercial promoting the debut of his upcoming solo single.
Unsurprisingly, fans are losing their minds.
The pandemonium is real...
Fans are going INSANE, and that's probably an understatement.
It's all they can talk about.
As if the 30-second commercial wasn't enough to send fans into a frenzy, Harry Styles also took to Instagram to post blank photos.
He shared three of them.
Each one of them racked up over 600,000 likes.
One person didn't quite get the hint, though!
THIS IS NOT A DRILL.
IT'S HAPPENING.
There's just one question left to ask, my friends...
The news surrounding Styles' solo single comes as a surprise to fans who have gotten used to seeing the 23-year-old singer try his hand at acting over the last few months.
According to Entertainment Weekly, since One Direction's hiatus was announced in 2016, Harry Styles has been busy filming "Dunkirk,"  a movie about World War II directed by Christopher Nolan.
As far as music goes, Style has still been writing for artists like Michael Bublé.
However, it would appear he's ready to give his fans what they've all been waiting for. Mark your calendars!
Citations: Watch the trailer for Harry Styles' solo debut that's got everyone freaking out (Mashable)