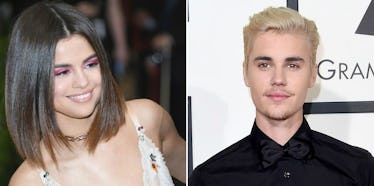 This Edited Pic Of Selena Gomez And Justin Bieber At The Met Gala Looks So, So Real
Getty Images
Internet, quit playing games with our hearts.
Every time we think we're done with the Justin and Selena saga of our generation, you pull us back in.
This past Monday, NYC held the annual Met Gala crawling with celebrities galore, dressed in their greatest fashion triumphs and celebrating the Metropolitan Museum of Art's Costume Institute.
Everyone you love to hate or hate to love was there, including Selena Gomez and her latest boo-baby-boy The Weeknd. If you don't live under a stupid rock, you might have noticed how insanely happy and adorable the two look together, to which we say, "Bravo, Selena!"
After a nightmare of a relationship with the Biebs, the gal deserves some good luck in love, and we think The Weeknd could be just the anecdote.
So, you can imagine our audible gasps when this trickery crossed our news feed.
Dear God, no! What is this?! What am I looking at? Where am I?! Baby, baby, baby... OH!!! I was like baby, baby, baby... NOOOOO.
Dear reader, take deep breaths. Don't let your eyes fool you.
Though this image looks incredibly realistic and perhaps as though no time has passed at all since Jelena walked the face of the Earth, it is, in fact, photoshopped.
Fortunately, die-hard fans were there to aggressively point out the Photoshop phenomenon, and the person who posted it was clearly not intentionally trying to make us all go insane. That was more like a happy accident.
Damn are those some good editing skills, though.
However, if we really break this down, in retrospect I think we can all agree the dead giveaway should have been that impeccable, classic suit Justin would literally never, ever wear, especially to an event that celebrates creative fashion.
Rest easy, Selena fans. Homegirl is doing just fine and we assume Justin is somewhere wearing comfortable baggy pants, so we don't need to worry about him either.
No more nightmares tonight.