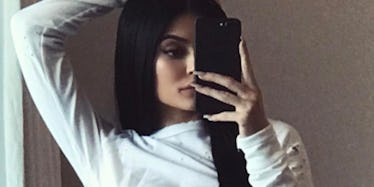 Kylie Jenner Sets The Record Straight After Rumors She Photoshopped Her Pic
Instagram
Kylie Jenner might have been partying at the Met Gala last night and with Travis Scott last week, but between all of these celebrations, she's also been addressing rumors that she photoshopped one of her Instagram selfies over the weekend.
Kim Kardashian West recently lost about 100,000 followers because fans weren't pleased she was seemingly airbrushing her photos, so Kylie might be speaking out to avoid that.
Because Kendall and Kylie's brand is completely dependent upon saving their own skins and making themselves look good, as opposed to using their platforms to bring awareness to something other than themselves.
This is the photo in question:
In the comments, fans are calling Kylie Jenner out because the photo seems warped around the curtain in the background. Fans say she altered it to make her waist appear slimmer and her hips seem wider.
Let's take a closer look, shall we?
Go ahead and zoom in even more on that last pic and tell me what you think.
Kylie addressed the ~haters~ in a Snapchat video.
In the video, she says,
So this is like my selfie mirror and my Snapchat mirror, so for future, this is a curtain behind me it looks crooked, but it's not.
Profound.
She posted another Snap ~for the haters~.
LOL, damn, Kylie. That caption is almost as petty as I am.
I'm the first to admit I edit my pictures a lot before posting them. I don't photoshop them, but I definitely use some apps to make my skin look better (I have acne scars, judge me). So Kylie can do whatever she wants to her pictures, I really don't care.
But what's really annoying about her — and the entire Kardashian family — is that they'll "speak out" about things like fans accusing them of photoshopping their pictures in order to preserve their "perfect" image, but they won't use that same platform for causes that help millions of disadvantaged people who could really use their help.
Do whatever you want to your pictures, Kylie. Seriously, do whatever makes you feel good and beautiful. But it might be worth considering talking about some charities or social issues you know your fans care about on your Instagram, Snapchat and other social media channels.
You CAN do both.
Citations: Kylie Jenner Slams Rumors She's Photoshopping Her Selfies on Snapchat (Seventeen)