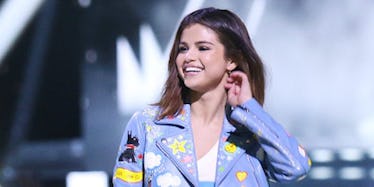 Selena Gomez Teases Her New Song "Fetish" On Twitter And Fans Are Freaking Out
Michael Tran/Getty Images
Selena Gomez tweeted out a tease for her new song "Fetish" and everyone is freaking out. Looks like something amazing is about to come our way.
Gomez teased at the end of the "Bad Liar" music video that "Fetish" would be coming soon, but it didn't give an exact date. Well, technically, she still hasn't given an exact date, but this tweet has to mean we are getting closer. Right?!
I can't say for sure what this photo means exactly, but Selena has been releasing songs that are pure fire lately. She's been having one hit after another, and fans cannot get enough.
Personally, I'm happy Selena Gomez has been releasing these bangers in the summer. It's much better to jam out on a rooftop deck than when I'm hibernating in my apartment.
She's been very into the retro vibe lately, like we saw in the "Bad Liar" video. Could "Fetish" possibly be a sequel to that? Or will it just have the same look? Ugh, I want answers!
I'm freaking geeked, and can't wait to listen to Gomez's new song over and over until everyone in my building complains. I think most people agree with me.
Me! Me! I'm Retweeting
Need Is An Understatement
Who Run The World?
I Can Skip The Ice If It Means "Fetish" Comes Sooner
Supposedly 18 Seconds Of The Song Have Already Been Released
I literally got out of my chair to start dancing. What a sweet, sweet 18 seconds that is.
If these alleged leaks are indeed part of "Fetish," fans who guessed Gucci Mane will be featured are probably correct, as well.
In the "Bad Liar" music video, you can see the small tease around the 3:40 mark.
Very, very interesting. Will Selena play all the characters for the"Fetish" video? Will Taylor Swift low-key appear in it?
These are questions only Selena Gomez can answer right now. Hopefully she shares soon!