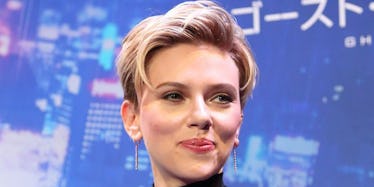 Scarlett Johansson Shuts Down Ex For Shaming Her Working Mom Status In New Clip
REX/Shutterstock
Scarlett Johansson is firing back at her ex-husband after a reported harsh comment he made about her in their divorce proceedings.
Earlier this month, ScarJo and her ex Romain Dauriac started a bit of a custody battle over their 2-year-old daughter, Rose Dorothy. Though both parents want joint custody, Johansson has requested Rose live with her, which Dauriac is contesting.
In his response, obtained by the Associated Press, Dauriac's lawyer stated Johansson's busy filming schedule is detrimental to their daughter.
Mr. Dauriac is tired of having to run his life and his child's life based on Ms. Johansson's shooting schedule.
Hmmm, so you're saying Scarlett Johansson can't be an actress and a mom at the same time?
Although Scarlett has said she doesn't want to publicly comment on her divorce, it sure did seem like she was responding to Dauriac's comment about her motherhood in a recent satellite interview with the British talk show "Lorraine."
ScarJo made a point to say she is proud to be a working mother, and to provide an example for her daughter of an independent woman with a job.
She told the host,
I am so proud to do a job that I love to do and that I worked really hard at to get where I am — and to be able to show my daughter that and have her come to the workplace and see that her mom is an independent woman making it happen... it's really important for me. So, that's the war cry.
You hear that, Romain? Of course, Scarlett Johansson is one of the most well-known actresses working today, but why does that mean she can't also be a good mother?
This year, ScarJo will be starring in the anime adaptation of "Ghost in the Shell" and the raunchy comedy "Rough Night." She'll also be reprising her franchise role as Black Widow for 2018's "Avengers: Infinity War."
Check out Scarlett's comments about being a working mom for yourself below, starting at 3:06.
Citations: Scarlett Johansson Isn't Here For Romain Dauriac Trying To Shame Her For Being A Working Mom (Perez Hilton)