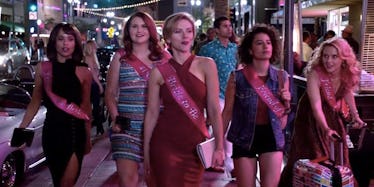 Scarlett Johansson, Kate McKinnon Kill A Stripper In Epic 'Rough Night' Trailer
Columbia Pictures
I don't know about you guys, but Scarlett Johansson and Kate McKinnon straight-up murdering a man is exactly what my International Women's Day needed.
This is exactly what the first trailer for the new comedy "Rough Night" delivered when it dropped on Wednesday, and I couldn't be more grateful.
The film, which opens this June 16, is written by same people who write "Broad City" and stars Jillian Bell, Ilana Glazer and Zoe Kravitz alongside ScarJo and Kate.
The five best friends take Scarlett on a crazy bachelorette party adventure before she gets married to Paul Downs (who you might recognize him as Trey from "Broad City").
The epic trailer was posted on Wednesday afternoon. (Warning: This trailer is NSFW.)
It starts off seeming like a pretty standard "bachelorette party gone wild" comedy.
(In fact, many are comparing it to Jada Pinkett Smith's upcoming film "Girls Night," except with white people.)
You know, the old friends reunite kind of thing.
Jillian Bell (of "Workaholics" fame) promises ScarJo the best Miami party ever.
Kate McKinnon ("SNL," "Ghostbusters") is delightfully weird as always, and maybe Australian?
Ilana Glazer ("Broad City") and Zoe Kravitz score some coke from the bus boy.
Scarlett Johansson gets down and dirty with a stripper.
But, uh, then Jillian accidentally kills the stripper? With her body?
Suddenly, things are not so crazy-bachelorette-party comedy anymore.
Mainly because they now have this dead stripper body they have to deal with.
Not to mention the possibility of jail time.
Well, it's definitely different from "Bridesmaids!"
"Rough Night" will be the feature directorial debut for Lucia Aniello, who is a writer and director on Comedy Central's "Broad City." She wrote the film with her comedy partner, Paul Downs, who is also a "Broad City" writer and actor.
Colton Haynes, Ty Burrell and Demi Moore also star in the film.
The "Rough Night" script was formerly "Rock That Body," which appeared on the 2015 Black List, an annual list of popular Hollywood scripts that never actually got made.
So basically, this movie is going to be lit AF.
Citations: Brace Yourself For The Red-Band Trailer For Scarlett Johansson And Kate McKinnon's "Rough Night" (BuzzFeed)