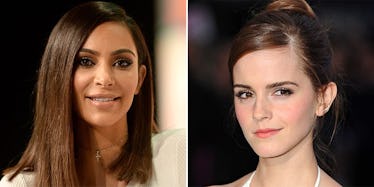 Kim Kardashian, Emma Watson Speak Out To Support International Women's Day
REX/Shutterstock
A day without women is no day at all, which is why it's of the utmost importance we highlight the solidarity and support currently on display in honor of International Women's Day.
Not every woman was able to take off from work on Wednesday, March 8, but that doesn't mean all women aren't standing together to celebrate International Women's Day.
From Kim Kardashian to Emma Watson to Blake Lively, celebrities from all walks of life have taken to social media to represent for International Women's Day, and their messages of love and strength will definitely make you feel some type of way.
Singer Alicia Keys took to Twitter early Wednesday morning to show what it really feels like to be a woman.
Actress Blake Lively shared an awesome photograph of a bouquet in the the shape of a vagina to show her proud feminist stance.
Actress Sarah Michelle Gellar took to Twitter to show her support for International Women's Day.
Alicia Keys also urged all to come out in support of women at the #DayWithoutAWoman gathering in Central Park in New York City.
In support of women everywhere, Serena Williams posted a photo of herself holding a sign that read #StrengthHasNoGender.
To caption the above photo, Williams wrote,
Proud to celebrate #InternationalWomensDay with @Brawnybrand by honoring those who continue to break down barriers #StrengthHasNoGender. Learn more about these incredible women on Brawny.com. #Ad
Kim Kardashian West praised all the women who fight for change via her Twitter account.
Emma Watson tweeted about feminist books, and her tweet received almost 20,000 likes.
Kim's sister Khloé Kardashian called for the world to celebrate all the "strong" women in our lives.
Actress Priyanka Chopra shared an incredibly moving video on Twitter, which, I'm not ashamed to say, had me holding back the tears.
Adele, as only Adele could, posted an International Women's Day quote that will make you smile.
Finally, I'd like to leave you with an excerpt from an essay Jessica Alba wrote on LinkedIn, in which she urged women to continue fighting the good fight.
At the end of the day, you may not make the rules – yet – but you can create the reality you want. Embrace your differences, allow yourself the ability to grow, see through the challenges and be present in each aspect of your life.
Happy International Women's Day, y'all!
Citations: What Lena Dunham, Serena Williams & More Stars Are Saying About International Women's Day and the Day Without Women (People)