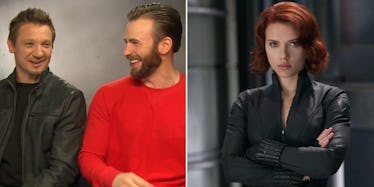 Chris Evans And Jeremy Renner In Trouble For Slut-Shaming Black Widow
Walt Disney Studios Motion Pictures
Chris Evans and Jeremy Renner are in some hot water after calling Black Widow from "The Avengers" a "slut" and a "whore."
Black Widow, also known as Natasha Romanoff, is played by Scarlett Johansson and has a romantic arc with Bruce Banner aka the Hulk.
However, in the past, the character had been romantically linked to Hawkeye, Renner's character, and Captain America, Evans' superhero identity.
It is clear the insult to Black Widow was meant solely in jest. However, slut-shaming is a real problem, and it doesn't set a good example for young kids looking up to these men playing superheroes.
But it does seem as if people are overreacting a bit. We're talking about a fictional character here, and it was an off-the-cuff joke. Still though, it doesn't bode well for these two.
Here are some fans' reactions to the actors' behavior:
The Chris Evans/Jeremy Renner joke about Natasha being a whore and just a flirty sidekick made me cringe. Gross. — Karena Fagan (@KarenaFagan) April 23, 2015
I'm actually really fucking appalled and disappointed with jeremy renner and chris evans in that interview with the ableism and slut-shaming — evan | 146 (@halseyadeux) April 23, 2015
2 men calling a woman a slut and whore is sexist. Jeremy Renner and Chris Evans made a sexist joke. Intent does not erase impact! — Jeanne (@fangirlJeanne) April 23, 2015
Just saw the articles abt Chris Evans & Jeremy Renner making sexist and ableist "jokes". So disappointed & grossed out #Avengers — aldehyde (@carbonpapers) April 23, 2015
Chris Evans, Jeremy Renner should apologize for shaming Black Widow, even "in fun" #uglywords — Liz Joyce (@lizjoyce5) April 23, 2015
Citations: Chris Evans and Jeremy Renner Slut Shame Black Widow (Refinery29)