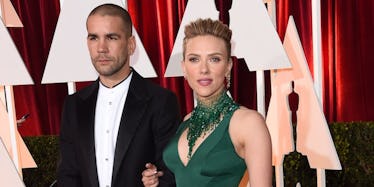 Scarlett Johansson Filed For Divorce And She Wants The Media To Get Over It
REX/Shutterstock
Stop asking Scarlett Johansson about her divorce, already. Goddamn.
The "Ghost in the Shell" actress officially filed for divorce from her husband of two years, great smiler Romain Dauriac, on Tuesday.
Before anyone was able to speculate why, ScarJo released a statement to People claiming she will "never be commenting on the dissolution of [her] marriage."
She said,
As a devoted mother and private person and with complete awareness that my daughter will one day be old enough to read the news about herself, I would only like to say that I will never, ever be commenting on the dissolution of my marriage… Out of respect for my desires as a parent and out of respect for all working moms, it is with kindness that I ask other parties involved and the media to do the same. Thank you.
Scarlett is requesting residential custody of 2-year-old daughter Rose Dorothy, according to divorce filings obtained by the site.
Her ex's lawyer, Hal Mayerson, told the site Scarlett's request is "laughable."
He added,
[Romain] plans to petition the court to allow him and his daughter to move to France… He believes that her schedule makes it impossible for her to have physical custody — unless she intends to have her children raised by nannies and helpers.
This is ScarJo's second divorce. She ended her marriage to fellow actor Ryan Reynolds in 2011 after three years of marriage.
In 2014, Scarlett told Glamour her first marriage was difficult partially due to how much she still had to learn about herself. She told the magazine,
When I was first married, I was much younger. And I have had the opportunity now to work more on getting to know myself. I think that makes you a better partner and somebody who is able to work with somebody and stay in a relationship in the not-romantic moments. I have more patience with myself. I have more patience with my partner. I think that just comes with age, probably.
Here's hoping Scarlett and Romain a painless divorce process and a life of easy co-parenting.
Citations: Scarlett Johansson: 'I Will Never, Ever Be Commenting on the Dissolution of My Marriage' (PEOPLE)