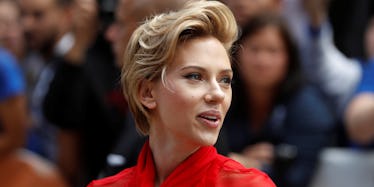 Scarlett Johansson Is Getting Divorced And Men Everywhere Are Rejoicing
REUTERS
It's official. Scarlett Johansson is back on the market after splitting up with French husband Romain Dauriac.
The couple had reportedly been separated since sometime last summer, according to a source who spoke to People.
While the reason for their split is unclear, the 32-year-old actress was seen without her wedding ring while attending the Women's March in Washington DC after the inauguration of President Donald Trump.
After being married to actor Ryan Reynolds from 2008 to 2010, rumors regarding Johansson's romance with Dauriac were sparked when the actress and the art collector were spotted on a date in New York City in October 2012.
Nearly a year later, Johansson was seen wearing an engagement ring, putting the stamp of authenticity on her rumored romance with Dauriac.
In a past interview with People, Scarlett Johansson revealed what she appreciated most about Dauriac, saying,
I love his brain more than anything. He does all the sweet gestures for me. He's a gentleman.
Finally, in 2014 the couple secretly got married before welcoming their first child Rose Dorothy.
After two years of marriage, the couple are now headed to splitsville -- and men everywhere are rejoicing. It's not too hard to understand why.
Scarlett Johansson is back on the market, people!
Judging by these reactions, this is obviously a huge fucking deal.
As you can probably tell, the world is cruelly filled with joy.
Dudes are spreading the word like there's no tomorrow.
Even someone's husband is ecstatic about the news.
This guy's testing his luck despite the fact that ScarJo doesn't even have a Twitter account. The thirst is real.
It's safe to say the bros of the world are ready to give their imaginary relationship with the actress another shot.
In the past, ScarJo shared her own advice with fans about when to break it off with a guy, saying,
 You have to get to your breaking point… rock bottom is the moment when you're like, 'I've lost myself. Why am I standing outside this bar at 1:30 in the morning texting while my friends are inside? Or taking a taxi to see him at some ungodly hour? This isn't me.' That is the moment you've gotta cut it off.
It's hard to tell if these were any of the issues that might have caused Johansson and Dauriac's marriage to fail, especially since the actress had been referring to an ex at the time.
Regardless, I wish both Scarlett and Romain the best of luck in their next steps.
Citations: Scarlett Johansson and Romain Dauriac Split After Two Years of Marriage (People)