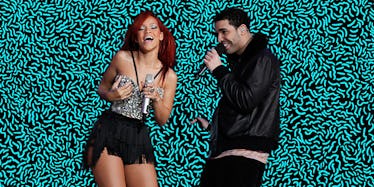 Rihanna Traveled An Insane Distance Just To Make Magic With Drake On Stage
REUTERS/Shutterstock
Rihanna and Drake -- where have you been all my life, life, life?
The couple the world just can't get enough of just proved their love knows no bounds.
They might be THE busiest singers in the business, but that doesn't mean they don't make time for each other and keep their love real.
Rihanna had only just finished her performance in Paris when she flung her luggage on a plane and flew to Canada to join Drake on stage at OVO Fest in Toronto.
She performed "Work" and "Too Good," and naturally, the couple killed it.
I can't with Rihanna and Drake they are meant to be pic.twitter.com/o4BiO2G2eU — RihBecca (@_rebeccapower) August 2, 2016
Rihanna and Drake performing #TooGood at Day 2 of #OVOFest in #Toronto (Aug. 1) pic.twitter.com/kH7hko2jtm — Rihanna • NEWS • (@RihannaDiaries) August 2, 2016
Then Rihanna went to Sweden.
That's basically an 8,000-mile round trip.
You know what that is? The kind of love that puts Taylor Swift and Calvin Harris to shame.
No feuds, no airing of dirty laundry on the public stage, no nonsense. Just pure love and respect for one another.
They just know how to make it WERK WERK WERK WERK WERK.
Sorry, couldn't resist.
The vibes between Drake and Rihanna became impossible to ignore after the artists released this music video, and a couple months after that video came out, Drake called Rihanna "the greatest woman I've ever known in my life."
For the longest time, people thought Drake and Rihanna were dating in secret. But let's look at the facts: Friends just do not grind on friends like Rihanna does to Drake.
Drake later denied on "The Ellen DeGeneres Show" that he and Rihanna were an item, branding it "friendship at its finest."
Then a sources came out and told E! News,
He still loves her and never stopped. Rihanna is the one that's been not wanting to settle down in the past. They are having fun spending time with each other. Their music together got them close again.
Now the whole world just assumes they're a proper couple AND WE DON'T WANT TO BELIEVE ANYTHING ELSE.