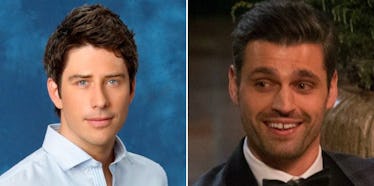 Peter Responds To Arie Being 'The Bachelor' On Instagram & It's Intense
ABC
Welp, The Bachelor and ABC surprised us all when they announced the newest Bachelor, Arie Luyendyk Jr. Besides having the hardest last name to spell and pronounce, Arie was kind of a wildcard — for Peter Kraus and the rest of America. Peter responds to Arie being The Bachelor in the classiest way, but it's still so, so sad. Fans may have been clued in on the decision when Peter tweeted this cryptic message on Sept. 6, one day before the big announcement. Was he giving us a heads up?
Never let fear hold you back. Lesson learned.
If you don't remember him, Arie is part of The Bachelor franchise family. He was the runner-up during Emily Maynard's season in 2012. Here are a few things to know about him:
He speaks Dutch.
He is a professional race car driver.
He is 35 years old.
He has joked about being The Bachelor with grey hair.
He has dated other women from The Bachelor franchise.
His nickname was "the kissing bandit" on Emily Maynard's season — up for interpretation.
Overall, not a bad pick, but he's no Peter. I'll miss my Wisconsin-bred silver fox. Sigh. Maybe next season. According to E! News, Arie has actually been in the running to be The Bachelor multiple times. He was up for consideration in 2013, but Sean Lowe was chosen. Then, he lost his chance again in 2015 to farmer Chris Soules. Alright, Arie, have your time in the sun.
Being the gentleman that he is, Peter wrote a sweet message on Instagram on Sept. 7 about his time on The Bachelorette,
ABC, you saw something in me, but something held me back. You treated me with such love and kindness and showed me glimpses of a life I never once dreamed that I could have. I will be forever humbled and grateful and will always look back at these last 6 months with an ear to ear smile, knowing that this has truly been a very special life indeed.
Relating to his cryptic tweet, Peter mentioned letting fear get the best of him. He continued,
When you let uncertainty or fear guide your decisions, you risk missing out on what could potentially be the greatest opportunity of a life time. So live dangerously, live without the fear of the unknown, and continue to live and love with a heart that is truly open to anything.
Live and learn. Right, Peter?
His manager, Joe Yuasa, told E! News in a prepared statement that Peter thinks ABC made "a great choice."
The statement said,
Peter is going to focus on his passion, helping people through fitness and wellness. He is very thankful for the opportunity he was given with The Bachelorette. Things are going to be great for Peter Kraus fitness and his boot camps moving forward.
Things won't be all bad for Peter. He is now able to return to his passion of health and fitness. E! News said that he will be turning all his attention toward his business, Worth Personal Training in Madison, Wisconsin.
I'm seriously so jealous that people can just go hang out with Peter... oh, and exercise.
While I'm sad Peter is not the next Bachelor, I'm excited to see what someone new-ish brings to the table. As franchise creator, Mike Fleiss, said in a tweet, "Do we really want a Bachelor who isn't ready to settle down with a woman he loves?" FINE, YOU HAVE A POINT.
Wishing Peter the best for his future. Arie, I have very high hopes for you as The Bachelor. Here's some advice: Post a few shirtless pictures or photos with your beloved family pet before the premiere. That always worked for Peter. *Cries forever.*