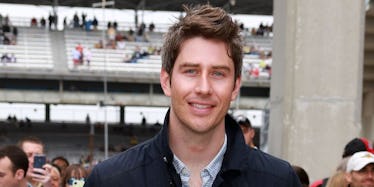 This One Tweet Could Be A Clue Arie Was Going To Be 'The Bachelor' All Along
Robin Marchant / Getty Contributor
After months of staring at white walls and waiting for Chris Harrison to make a GODDAMN ANNOUNCEMENT, we finally know who the 2018 Bachelor will be. Arie Luyendyk Jr. will start his journey to find love this January, even though most of Twitter has no clue who the f*ck he is. Luyendyk competed for Emily Maynard's heart back in 2012, aka 2,000 years ago. Half the kids who watched Rachel Lindsay's season probably weren't even born yet. It's gonna be an exciting time and we all should have seen it coming. How?! WELL, BECAUSE THERE WAS A GINORMOUS CLUE ARIE WAS GOING TO BE THE BACHELOR ON TWITTER.
World, meet Kelsey Smith: beauty blogger, Bachelor fan, and hero of the internet. Back on Aug. 7, Smith tweeted,
Soooo can we bring back @ariejr for the next Bachelor? #TheBacheloretteFinale
SPEAK YOUR PIECE, KELSEY. The next day, Luyendyk quoted her tweet and wrote,
Have they ever had a Bachelor with grey hair?
GOOSEBUMPS. I literally DMed Kelsey to find out, uh, HOW THE F*CK SHE KNEW ARIE WAS GONNA BE THE BACHELOR. Is she a psychic? A wizard? Be my best friend, Kelsey. She tells me,
My tweet was less of a prediction and more of a plea. After not watching the show for several years, I came back to The Bachelorette for Ashley Hebert and Emily Maynard's seasons of The Bachelorette, and I was reminded of what hooked me in the first place. Watching Arie on the show, you could tell how much he loved Emily. It's been awhile since there was a couple I wholeheartedly backed as a viewer. I think a lot of Bachelor Nation is eager for a leading man that is genuine and can give himself over to the crazy process that is The Bachelor.
AMEN. She convinced me; team Arie for life. Clearly Arie has a strong fanbase. Kelsey says she's been a diehard Bachelor fan for a while, so she's familiar with a lot of the old casts:
I'm a long time fan of The Bachelor; it's a guilty pleasure for me. I watched the very first season of The Bachelor back in the day! It's so fun to watch people fall in love, even if it's under such strange circumstances as a reality TV show. In fact, the ridiculousness of the show is a huge part of the appeal! You can root for your favorite contestants, scream when the villain gets a rose, and maybe at the end of the day you witness a love story. I feel like I'm part of it.
Congrats to Arie on becoming the next Bachelor and congrats to Kelsey for becoming my new best friend. You both just won the jackpot.