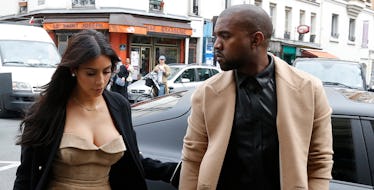 Paris Concierge Takes Credit For Saving Kim K's Life In Emotional Letter
REUTERS
The concierge of the Paris hotel where Kim Kardashian was robbed has broken his silence on the terrifying incident that happened Sunday night.
The man wrote an open letter to the 35-year-old reality star explaining his point of view on the situation and how he was able to remain so calm.
The letter reportedly says,
Dear Kim, when you feel the cold steel of a gun at your neck, it is the moment when remaining calm can mean the difference of life or death, both our lives. I hope you are feeling better.
According to the note, the concierge claims he was forced to follow orders by the gang in order for him and Kim Kardashian to leave the dangerous situation alive.
He made a similar statement to the French celebrity magazine Closer on his composure as well.
Kim reportedly criticized the man for acting so "calm" during the attack, considering she was completely frightened as five intruders gagged and bound her in the hotel room's bathtub.
The masked men also stole more than $10 million worth of jewels, including her $3.5 million engagement ring. The star was also forced to plead for her life.
A source told E! News,
She begged for them to let her live and [said] she has babies at home. Then they wrapped her mouth in tape and put her in the bathtub. She thought they were for sure going to kill her.
Inside sources also told Perez Hilton the mother of two feared the men would rape her.
Mail Online explains the gang brought the concierge into her apartment, and Kim Kardashian asked him if she was going to die.
His response, "I don't know," has apparently been criticized by the star.
Kim Kardashian has not yet posted about the robbery on social media.
According to her rep, she's still "badly shaken" by what happened and will need more time to heal.
Citations: Paris Robbery Letter To Kim Kardashian (Daily Mail)