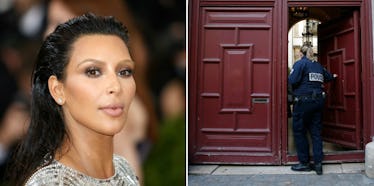 Paris Hotel Concierge Who Let Robbers In May Be Key Witness In Kim K Robbery
REUTERS
The dust is finally starting to settle after Kim Kardashian was tied up and robbed at gunpoint at an exclusive apartment complex in Paris, France, and it appears the hotel concierge is now the key witness in the investigation.
According to TMZ, the concierge was taken up to Kim Kardashian's room in a private elevator, which resulted in Kardashian getting tied up and losing a reported $10 million in jewelry.
The concierge was reportedly put in handcuffs while Kim K was robbed, but it appears there's a working theory that suggest the robbers had to have inside knowledge and help in order to pull off such a heist.
TMZ claims Kim K had an extensive interview with Paris police, in which she said the concierge was handcuffed when he opened the door to her apartment. Recounting the traumatizing affair, Kardashian reportedly said,
He opened the door and led them [the robbers] up and was in there the whole time.
Apparently, Kim asked the concierge if they were going to die, to which he calmly -- this is key -- responded, "I don't know."
Kim reportedly emphasized the concierge's calmness to police when she told them what happened.
Kim reportedly claimed the robbers left the apartment with the handcuffed concierge after robbing her and put him right back in the lobby.
A former Pink Panther crime network member reportedly told The Daily Beast,
This was a preplanned inside job and they pulled it off. It's only a couple of pieces of jewelry. Five guys went in, they got the concierge, got him to open Kardashian's room. They went in, tied her up, gagged her, and took the jewelry and left on bicycles.
With such a delicate case, we obviously shouldn't jump to conclusions, but it's hard to ignore the notion of the Kim K robbery being an inside job. Kim and her husband, Kanye West, are clearly shaken up over what transpired in that apartment complex.
Hopefully, a thorough investigation into the hotel concierge will yield some new information about the thugs who robbed Kim Kardashian at gunpoint.
Citations: KIM KARDASHIAN CONCIERGE KEY WITNESS IN ROBBERY (TMZ), Kim Kardashian's Hotel Concierge 'Critical Witness' in Jewelry Heist, Reports Claim (The Daily Beast)