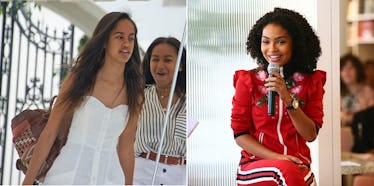 Why Malia Obama And Yara Shahidi's Harvard Education Is So Huge For Black Girls
Getty Images
On Tuesday, 17-year-old Black-ish star, Yara Shahidi, announced she will officially be attending Harvard University in the fall of 2017.
The internet put one and one together and quickly deduced that this makes the perfect set-up for her and Malia Obama to become besties — or roommates, at the very least.
It only makes sense, you know?
For Black Girls, The Two Powerhouses-In-The-Making Are An Extra Sort Of Inspo
This moment goes far beyond Obama and Shahidi being potential wing-women for each other as they strut through campus. Since not all black people hang out together by default, the two could very well end up rarely crossing paths at Harvard.
You remember what college was like. The people you believe you'll be hanging out with every day until graduation can easily become the ones you only wave to in the dining hall.
University life is a busy time for everyone. You're finding yourself and you're developing your social circle around that self-discovery.
Regardless of whether Obama and Shahidi become besties or remain aquaintances who follow each other on Instagram, their highly visible, black female presence on the same Ivy League campus sends a powerful message about education for young women of color.
Young black women — who are likely familiar with Shahidi or Obama, or both — are coming up in a world when higher education is lauded as the default road to success.
In fact, black women are currently the most degreed group in the United States. According to a survey conducted by the National Center For Education Statistics, black women have earned 68 percent of associate's degrees, 66 percent of bachelor's degrees, 71 percent of master's degrees, and 65 percent of doctorate degrees.
Once that education is achieved, however, that same success is often used to assign them labels in their personal and professional lives, like "too independent" or "too strong" or "intimidating."
So, a black woman earning her education can, unfortunately, come with a double-edged sword.
This Is Why Visibility Matters
Whether they're represented via television screens or in real life, young black women need to see other black women pursuing an education in spite of all this skewed flack.
Years ago, several educated African American female characters graced television screens.
There was the Moesha sitcom about a young woman who attended high school, finished, and then went on to college.
The Parkers — a Moesha spin-off — followed a mother-daughter duo who attend community college at the same time.
Additionally, one of the most iconic black sitcoms to grace a silver screen was Girlfriends,  a show that followed the dating lives of four best friends who all graduated college together.
Lately, there haven't been nearly as many television shows with young black women at the center of the college experience.
Ironically, Yara Shahidi is set to star in her own show: a Black-ish spin-off called College-ish. This will be the first show in the last few years that actually brings a black woman's experience on a college campus to TV screens.
In the meantime, young black women get to watch two of the most popular black female celebrities in their generation take on an Ivy League campus in real life.
Shahidi is fresh out of high school, while Obama will hit the Harvard campus after taking a gap year filled with traveling, interning on the Girls HBO set, and interning for Hollywood producer, Harvey Weinstein. That's two different school-to-college narratives at the same time.
It'll be beautiful if Obama and Shahidi actually do become the best of friends and we get to swoon over their friendship posts on social media.
But even if they don't, their individual academic journeys are certainly "goals" enough.
Go educated black girls, go!