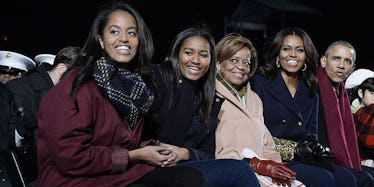 Malia Obama Has The Perfect Potential College Roommate, And Twitter Can't Even
Olivier Douliery- Pool/Getty Images
Malia Obama's future at Harvard University is decided, according to Twitter.
In the fall, she'll descend upon Cambridge, Massachusetts, and begin her first semester at the Ivy League university.
There she'll eventually meet, room with, and later become best friends with the only freshman as impressive as her: Yara Shahidi.
Shahidi, the 17-year-old star of ABC sitcom Black-ish, announced on Tuesday via social media that she'll be attending Harvard.
Since Obama is about to start her first semester at the university as well, after taking a gap year between high school and college, people put two and two together and decided both girls will be inseparable on their path to graduating Magna Cum Lit.
Just ask Black Twitter.
Clearly, this matter is not up for debate.
In fact, just about the only thing to figure out now is whether this is all part of some grand plan by Michelle Obama.
After all, Lady O is the one who wrote Shahidi's recommendation.
That's just about all the evidence some people needed.
Genius move, Michelle.
Back to the girls, though.
There's no official word on exactly which degrees either will be pursuing, but back in October Shahidi shared during a conversation hosted by Glamour that she's looking into majoring in sociology.
She said,
Well, as a senior — I'm applying to colleges right now — but as a senior, education has been so important in my life. And also just an actress it's opened so many doors because it's made me truly interested in the world around me. And I think my love of acting is the same reason I want to study sociology, because I'm interested in humans.
As for Malia Obama, it's been widely reported that former President Barack Obama's eldest daughter is interested in becoming a filmmaker. And if her internship this past winter, with renowned producer Harvey Weinstein, is any indication, she's serious about pursuing that dream.
On her way to achieving that, she'll definitely be chasing success with Shahidi.
At least, that's what everyone seems to hope for.