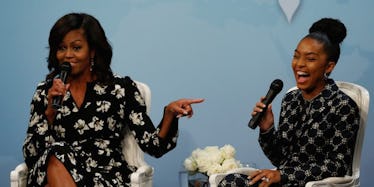 Michelle Obama Wrote Model's College Recommendation Letter And We're All Jealous
REUTERS
Michelle Obama wasn't lying when she said she supports women's education.
In fact, the former first lady is super hands-on when it comes to helping promote women's education.
That hands-on approach was on full display recently with her support of one specific woman.
Obama apparently wrote a college recommendation letter for Yara Shahidi, a model and one of the stars of "Black-ish."
Shahidi is 17 and going through the same college application process many across the country take.
She took AP exams, put together her application materials and had to get letters of recommendation.
Relatable -- except she had some presidential support.
Obama gave Shahidi a "go get 'em, tiger" back-rub before her APs, according to an interview the young actress did with W Magazine.
The former first lady also wrote a letter of recommendation for her. This fulfilled a promise she made in public earlier this year.
In October, Shahidi and Obama shared a stage at Glamour's event: "A Brighter Future: A Global Conversation on Girls' Education."
There, Shahidi said she was applying for college and planning to study sociology. She said,
Well, as a senior -- I'm applying to colleges right now -- but as a senior, education has been so important in my life. And also just an actress it's opened so many doors because it's made me truly interested in the world around me. And I think my love of acting is the same reason I want to study sociology, because I'm interested in humans.
Obama pointed out that she herself was a sociology major at Princeton University. Shahidi said with a laugh,
Oh, my goodness. Write my recommendation letter, please!
To which Obama responded,
You got it. You got it. I got you covered, kid.
Naturally, lots of people were in awe -- and super jealous -- of Shahidi for getting a college recommendation letter from Obama.
With Obama help like that, the "Black-ish" star seems set.
Hopefully, we'll find out soon if Shahidi will be following Michelle, Barack or Malia's path at Princeton, Columbia or Harvard.
Good luck, Yara!
Citations: Yara Shahidi on Women's Empowerment, Beyoncé's Pregnancy Instagram, and the Black-ish Spinoff (W Magazine), Michelle Obama wrote model Yara Shahidi the college recommendation letter of a lifetime (Mic)