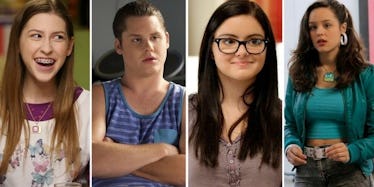 Could The 'Black-ish' Spinoff Inspire Similar College Spinoffs For ABC Sitcoms?
ABC
This week, "Black-ish" aired its backdoor pilot for a potential spinoff series starring eldest daughter Zoey Johnson (Yara Shahidi) and her foray into college.
We don't know if the spinoff is going to get picked up to series yet, but the pilot was actually pretty promising, and it's already drawing comparisons to the college-set '80s series "A Different World," which was spun off from "The Cosby Show."
So if the Zoey-centric spinoff does happen and becomes successful, what does that mean for ABC's several other family sitcoms?
We already know the network loves to milk one successful property for all it's worth (hence the four Shondaland shows currently airing on the channel), so could a college-bound "Black-ish" spinoff open the floodgates to a bunch of other ABC spinoffs?
It's not a ridiculous question when you consider how many of the family sitcoms on ABC are currently airing plot lines about one of the children heading off to college. So might we be seeing similar college spinoffs from "Modern Family," "The Middle," "The Real O'Neals" or "The Goldbergs"? Let's examine the prospects.
"Modern Family"
If there is another ABC family sitcom that's going to get a spinoff, it'll most likely be the network's most popular one.
Though older sister Haley Dunphy opted out of going off to college, we saw middle sis Alex get super jazzed about starting college in a campus visit episode last season. There could be material there for a new series with Alex Dunphy as the star.
Helping the prospects of this hypothetical spinoff even more is the fact Ariel Winter has become a recognized name in her own right, garnering significant media and online attention. This increased attention is likely what helped "Black-ish" breakout Yara Shahidi launch her spinoff, and Ariel definitely seems like the logical next choice.
"The Middle"
Unlike the other shows on this list, the older children of "The Middle" are actually already in college, but that doesn't mean that the series can't still create a new show to more closely follow their college exploits. The breakout of the series is definitely Eden Sher's incessantly perky Sue Heck, who is currently a college sophomore.
If "The Middle" did want to pursue a spinoff focused on Sue, they always have the option of having her transfer schools for some reason to bring in a new cast and setting, or they can even just change the perspective of the series to be entirely from Sue's point of view.
"The Real O'Neals"
The second season of "The Real O'Neals" ended with oldest brother Jimmy struggling with the decision of whether or not to go to college or stay with his family. It seems likely that Jimmy is going to enroll after getting his acceptance letter, but he'll probably still be a core part of the show and visit home quite often.
Even though he fits the template of ABC sitcom character preparing to go off to college, I really don't think making a spinoff series centered on Jimmy O'Neal is the network's first choice. Especially since the main show is still so new and Jimmy's character hasn't totally shown he can stand on his own yet.
"The Goldbergs"
The current fourth season of "The Golderbergs" has focused on oldest sister Erica's college application process, and will end with her high school graduation. With all the focus on her college choices in recent episodes, it actually does feel like "The Goldbergs" could be the show to most seamlessly follow "Black-ish" into a college spinoff.
Plus, AJ Michalka, who plays Erica's best friend Lainey on the show, was just promoted to series regular last season, so fans could have two familiar faces in the potential spinoff if they become college roommates.
Obviously, this is all hypothetical theorizing at this point, but the news of the "Black-ish" spinoff was pretty surprising, so I feel like any of these really could be next if it's successful. Which one do you guys want to see?