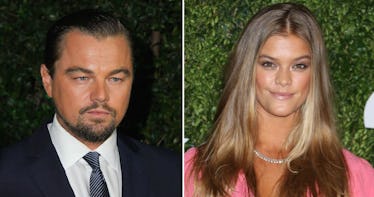 Leonardo DiCaprio Apparently Cheated On GF Nina Agdal With This Bikini Model
REX/Shutterstock
LEO, LEO, LEOOOOOO. WTF ARE YOU DOING?
Leonardo DiCaprio -- who has reportedly been dating Nina Agdal for a while now -- is rumored to be cheating on the 24-year-old with another bikini model.
We first saw Nina and Leo together in July when they were spotted making out and touching on the beach.
YEAH, it was hot. Just look at that action.
But now, almost six months later, it looks like the man has moved on... to Paige Watkins.
According to Page Six, Leonardo DiCaprio and his friends Lukas Haas and Tobey Maguire hung out with a bunch of models at Catch in LA.
The source says Leo and Paige took "a number of smoke breaks together outside."
You know, whatever that means. Some eye-witnesses told Page Six,
They looked pretty close... She was sitting on his lap, and they appeared to be kissing.
That's pretty cute (or disgusting!!!) since Leo was just in Cabo with Nina Agdal. Page Six was told Leo's girlfriend was away on a modeling shoot while Paige and a group went back to Leo's place.
Paige and Leo's representatives denied there was any romance, but like, you can put the puzzle pieces together.
It isn't too surprising when you consider how many times Leonardo DiCaprio has been called out for his model sexcapades.
I can't even get a guy to text me back and Leo has, like, 2,332,939,293 sexy women surrounding him on the reg.
He's dated everyone from Bobbie Brown in 1993 to Blake Lively in 2011. He even was rumored to be messing around with Rihanna in 2015.
So, who is Leo's most recent lady? World, say hello to Paige Watkins.
She likes to go to the beach a lot and take pics in sexy bikinis.
She also likes to be nakey.
Who needs clothes, anyway?!
Hang in there, Nina Agdal. Leo may be hot, rich and famous, but you're better than him anyway.
Citations: Leonardo DiCaprio Cheating On Nina Agdal (BroBible)