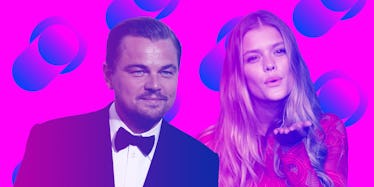 Leonardo DiCaprio And Nina Agdal Just Showed Major PDA And There Are Photos
REX/Shutterstock
Man, Leonardo DiCaprio LOVES his ladies.
Instead of "Keeping Up with the Kardashians," we should be "Keeping Up" with Leo's love life. It feels like the Oscar-winning actor is dating a new famous model every week.
I can't even get a guy to text back, and Leo has, like, 239,439 sexy women surrounding him on the reg. Ugh, celebs. They really are just like us. FML.
Anyway, sexy man-hunk Leo was spotted getting cozy with Nina Agdal the other day. The two have been rumored to be dating, but who really knows what that means. All I know is Leo is 41, and Nina is 24.
That means when Leo was 17, Nina was still in the womb. Visualize that for a sec.
Now that we've painted the picture, let's talk about Leo's sexy getaway.
Leo and Nina had a romantic beach day in Malibu on Thursday, and their PDA was out of control.
Seriously, the two were basically connected because they didn't stop touching the entire time.
Here's a video of Leo and Nina making out, rolling around in the sand and having sexy time. Kids, close your eyes!
That's what I look like in a bikini, too! Hahahaha *puts down milkshake and cheese fries.*
Leo, I hope you had an amazing day at the beach. I wish you and Nina a life full of happiness and love.
On the real, though, if you guys break up, call me. I love you.
Citations: Leonardo DiCaprio Nina Agdal PDA (Daily Mail)