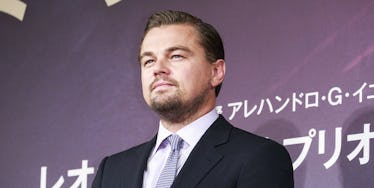 Leonardo DiCaprio Was Just Spotted With Yet Another Famous Model
REX/Shutterstock
Oh, WHAT A SURPRISE: Leonardo DiCaprio has been spotted with yet another famous, flawless model.
The Oscar winner went on a little weekend vacay in Montauk, New York, with the beautiful Nina Agdal. According to People magazine, the two aren't dating.
WEIRD, 'CAUSE THAT SURE SOUNDS LIKE A DATE TO ME.
This is Nina Agdal. It's like looking in a mirror, right? LOL, fuck my life.
Leo and Nina seemed to have a really fun time. They went to breakfast at Goldberg's Famous Bagels, and even visited the Montauk Point Lighthouse.
Yup, that's 100 percent a date.
LEO AND NINA SITTING IN A TREE. K-I-S-S-I-N-G.
The fun doesn't stop there, folks. Nina and Leo – couple name: Neo – also reportedly went to The Crow's Nest store so that Leo could buy Nina a sweater.
WTF. IT'S LIKE 80 DEGREES OUT, LEO. WHY YOU BUYING HER A SWEATER? ARE YOU GUYS GOING TO AN AIR-CONDITIONED MOVIE OR SOME SHIT?
Neo is 100 percent dating.
They were also seen at Up & Down club in NYC on May 24, so that's some juicy stuff right there.
I get so confused by Leo's love life because in early May, there were rumors of him dating 23-year-old model Victoria Lee Robinson. Well, I guess that lasted long.
SORRY, VICTORIA. LEO HAS MOVED ON.
All in all, I have no idea who Leonardo DiCaprio is actually dating right now. But frankly, I don't care unless that girl is me.
Citations: Leonardo DiCaprio Spotted With Nina Agdal (PEOPLE)