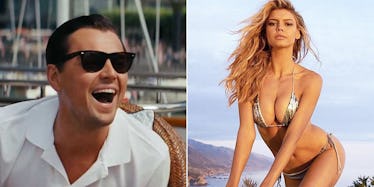 Leonardo DiCaprio Has Had Some Of The Hottest Girlfriends Over The Years
Paramount Pictures / Instagram
In this game of life, Leonardo DiCaprio is f*cking all of us up.
Sure, it took him a couple of decades to finally cop that Oscar, but considering all of the other fly sh*t he has going on, do you think he really gives a damn?
Leo is a classic man who only cares about two things: saving the environment and dating foreign women.
He's the real-life Vinnie Chase from "Entourage," crushing every movie he stars in and showing up to every premiere with a new chick.
Over the years, he's proven it isn't quality versus quantity, it's quality AND quantity. If there was ever a player's curse, we would expect Leo to have about 300 daughters when he finally gets married.
But Leonardo DiCaprio has a higher chance of winning a second Oscar than he does actually sticking to one girl, and his ridiculous track record proves it.
1993: Bobbie Brown
Leonardo DiCaprio got off to a hot start in Hollywood and bagged model Bobbie Brown who starred in the "Cherry Pie" music video.
According to the legend told by Bobbie herself, a 19-year-old Leo sang her "Waterfalls" by TLC and that's pretty much all it took for her to give it up.
1993: Kate Moss
The two had a "casual" relationship in NYC when they were 20. That's it.
1994: Bridget Hall
Like all of Leo's relationships later on, his bond with Bridget was nothing serious, but every time Leo gets with a new model, it's front-page news.
1994: Brittany Daniel
Leo met Brittany when she was just 18 while filming "The Basketball Diaries" together.
Their on-screen romance turned into a real-life connection, and as you would guess, that didn't last for very long either.
1995: Naomi Campbell
In 1995, Leo had a high-profile fling with supermodel Naomi Campbell. While this was yet another hookup that did not last long, the two remain good friends today.
1996: Kristen Zang
Leo actually lasted a couple of years (on and off) with model Kristen Zang until 1998.
His rising fame and affinity for models, however, ultimately led to the end of that relationship.
1997: Helena Christensen
One woman rumored to be hooking up with Leo during his relationship with Kristen Zang was Danish model Helena Christensen.
1997: Natasha Henstridge
Let's just put it this way: When Natasha met Leo, she was a model. Now, she's an actress.
1997: Demi Moore
While ending her marriage with Bruce Willis, it was rumored Demi Moore and Leo "spent time" together. I wonder what they were doing?!
1998: Amber Valletta
Now, back to the models. Leo reportedly spotted Amber Valletta in a magazine and had his people reach her people. The rest was history.
1998: Bijou Phillips
These two met while partying, and Leo helped Bijou jumpstart her acting career by introducing her to the director who ultimately cast her in her first movie.
Their relationship didn't last, and Bijou ended up dating her co-star Elijah Wood.
1998: Eva Herzigova
The Victoria's Secret Model reportedly had a month-long affair with Leo while she was married.
2000: Gisele Bündchen
Before Tom Brady wifed it up, Gisele and Leo were on and off for almost five years.
2005: Bar Refaeli
Leo was on and off with Israeli model Bar Refaeli for about six years. When neither of them wanted to settle down, they just realized being together was pointless.
2009: Anne Vyalitsyna
Leo dated Russian model Anne Vyalitsyna during a break with Bar Refaeli.
2009: Ashley Roberts
The Pussycat Doll was allegedly one of Leo's rebound girls after his relationship with Bar.
2011: Blake Lively
Leonardo briefly dated Blake Lively for about five months before calling it quits.
2011: Kendal Schuler
After he officially ended things with Blake Lively, Leo spent some time with Australian model Kendal Schuler.
2011: Mădălina Diana Ghenea
Leo met Romanian model Mădălina Diana Ghenea while shooting "Great Gatsby" in Australia. The two dated for a couple of weeks and then it was a wrap for that.
2011: Erin Heatherton
Leo dated this Victoria Secret Model for nearly a year, but their schedules were too busy to make it work with one another.
2013: Barbara Palvin
After dating Justin Bieber, supermodel Barbara Palvin met Leo when she was just 19.
2013: Toni Garrn
Toni Garrn was 23 when she started dating Leo back in 2013, but they soon split after she kept catching him with more models.
It was reportedly when Leo was with 20 women at a Miami nightclub that they officially broke up.
2015: Kelly Rohrbach
The Sports Illustrated model met Leo back in 2015, and it seemed like things were getting serious when engagement rumors started popping up.
Those rumors, of course, ended up being false, and they broke up before the year ended.
2015: Rihanna
Rihanna and Leo were spotted getting close at a Paris nightclub in 2015, but they've been allegedly messing around for even longer.
The two have never denied anything, and clearly, their friendship is a mutual agreement.