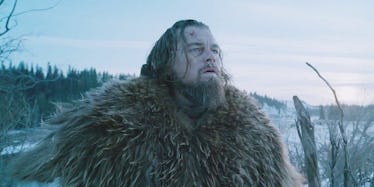 Leonardo DiCaprio Is Officially An Oscar Winner For His Role In 'The Revenant'
20th Century Fox
Finally, we can all let out a collective sigh of relief because Leonardo DiCaprio is officially an Oscar winner.
The 41-year-old actor had become almost as well-known for being snubbed by the Academy Awards as he is for his actual acting work before winning the Oscar for Best Actor for his role in "The Revenant."
Prior to winning the Oscar Sunday night, Leo had been nominated four other times for his roles in "What's Eating Gilbert Grape," "The Aviator," "Blood Diamond" and "The Wolf of Wall Street."
Beyond these nominations, many in the entertainment industry feel the actor had been severely snubbed for other roles including his role as Jack in "Titanic" as well as his roles in "Gangs Of New York" and "Catch Me If You Can."
Everyone knew this would be Leo's year to win. Sure, the film has incredible cinematography, but it was the actor's complete dedication to the role that won over both the masses and the critics.
"The Revenant" production designer Jack Fisk told Yahoo! Movies the actor sacrificed everything he had to make this movie great. The actor, who is rather famously a vegetarian, even gave up his love for animals. Fisk said,
He had to eat the liver, I think he threw up afterward… he was so into it. It made me really appreciate the extent to which he'll go to make things right.
Of the film, famously made using only natural light and shot in sequential order, Leo told Ellen,
It was like a 'Saturday Night Live' episode every single day, but nothing was funny... It's one of the most interesting films I've ever been a part of because we really submerged ourselves in nature.
He added,
It was quite possibly the most difficult professional undertaking that I've ever had, and I think I can say the same for everyone that was involved in the movie.
Congratulations, Leo, your hard work paid off.