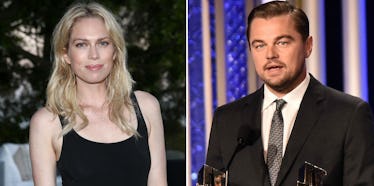 Gigi Hadid's Stepsister Called Out Leonardo DiCaprio For His Model Sexcapades
REX/Shutterstock
Want to know where Leonardo DiCaprio's name would DEFINITELY ring a few bells? The Victoria's Secret Fashion Show, that's where.
Gigi and Bella Hadid's stepsister Erin Foster would agree! The 34-year-old comedian took to Instagram to poke fun at Leonardo DiCaprio's impressive history of dating well known models.
I'll admit, that's a pretty funny reason to get picked on. Imagine being that dude in high school who pulls SO many hot chicks that people start clowning you for it...
I'd hop in a time machine to relive that any day!
Foster took to Instagram to post a 2014 photo of Victoria's Secret models standing on a set of stairs outside of an airplane raising their hands in the air.
She hilariously captioned the picture,
Raise your hand if you've told Leo you're on the pill.
No, I'm not kidding -- she actually said that!
Here is Erin Foster's epic Instagram post hilariously calling out Leonardo DiCaprio.
Burn, baby, burn!
Erin Foster had no shame in pointing out Leo's ways with supermodels. After all, there aren't many other people out there who've dated models like Bar Rafaeli, Kelly Rohrbach and Gisele Bündchen.
Only Leonardo DiCaprio would be able to relate to a star-studded lineup like that!
His most recent romantic connection has been with Danish model Nina Agdal.
Don't worry, though. It seems like Leo's wild bachelor ways won't last forever. Well, they could, but they probably won't -- according to him at least.
The Oscar award-winning actor sat down for an interview with Parade earlier this year, saying,
That time will come when that time comes. The truth is, you can't predict marriage. You can't plan it. It's just going to happen when it happens.
We'll see, Leo, we'll see.
I can name a handful of times it looked like you were off the market and ready to settle down and the BOOM -- you hit the (supermodel) dating scene again and now people are making memes about how popular you are amongst the Angels!
Citations: Gigi and Bella Hadid's stepsister throws shade at Leonardo DiCaprio — 'Raise your hand if you've told Leo you're on the pill' (NY Daily News)