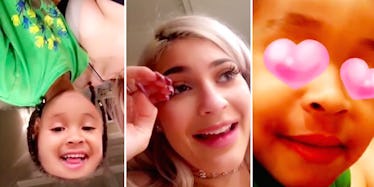 Kylie Babysat King Cairo While Blac Chyna Gave Birth And The Snaps Are Adorable
Snapchat
Once you realize Kylie Jenner is the Julia Roberts to Blac Chyna's Susan Sarandon, it's just a matter of time before a joyful, un-choreographed dance to "Ain't No Mountain High Enough" pops up on Chy's Snapchat story.
Don't look at me like that. Don't look at me with silent judgement. Don't look at me with eyes that say, "Taylor, life isn't 'Stepmom.' Shut the fuck up about 'Stepmom' for once."
Life is "Stepmom" and the Kardashian/Jenners are proof, sort of.
Despite a contentious history with her boyfriend Tyga's ex, Kylie has been on good terms with Chy since the model became romantically involved with Ky's brother Rob Kardashian.
Stop. I know Susan Sarandon didn't have Julia Roberts' brother's baby in "Stepmom," but the first part fits. Just let it go.
Chyna and Kylie are on such good terms, in fact, the 19-year-old was trusted with the task of babysitting Tyga and Chyna's son, King Cairo, while his mom gave birth to her second child on Thursday.
The duo snacked on some apples n' pasta, a classic combination.
Just like in "Stepmom."
They killed time on Snapchat.
Another amazing "Stepmom" moment.
They laughed and laughed and adjusted their lashes.
Who could ever forget the 40-minute, single-shot scene in "Stepmom" where Julia applies falsies? Not me.
While Kylie and King -- the Jena Malone of this web, in case you were wondering -- finally bonded, Chyna shared snaps of King's new sister and Kylie's new niece, Dream Kardashian, chuckling like a senile old man in the delivery room (because all babies look like tiny old men, a universal fact evidenced by "Stepmom" in a way I have not worked all the way out just yet).
Common sense would tell you Baby Dream is Susan Sarandon's younger child -- the boy who's obsessed with magic, or whatever -- though she gives off WAY more of an Ed Harris vibe (old man theory proven?).
Luckily for the Kardashian/Jenner family, their lives deviate somewhat from the 1998 film that, I'll just say it, redefined the meaning of "family."
Unlike Susan Sarandon's character, Blac Chyna is in amazing health. She and Kylie have also been working through the crushing awkwardness between them for months.
At the end of the day, though, whether it's the Kardashians or whatever the name of the family from "Stepmom" is, there really, truly, sincerely... AIN'T NO MOUNTAIN HIIIIIGH ENOUGH.
OOF.
JAYSUS.
#Family #Stepmom #AintNoMountainHighEnough #SusanChyrandon #KyliaRoberts
Citations: Is she an auntie or a stepmom? Tyga's girlfriend Kylie Jenner babysits King Cairo after Blac Chyna gave birth to daughter Dream (Daily Mail)