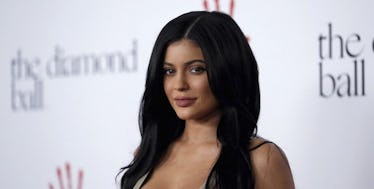 Kylie Jenner Addressed Rumors Of Her Feud With Blac Chyna In The Best Way
REUTERS / Mario Anzuoni
Kylie Jenner and her beau, Tyga, have been dodging rumors of a familial feud over the recent engagement of Rob Kardashian and his fiancé, Blac Chyna, for months now.
Since Tyga and Blac were previously together, and share a son, it all seemed like an awkward situation at best.
On Thursday, however, Kylie set the record straight once and for all, declaring peace with Blac in a single Snapchat.
Captioning the photo, "When we've been best friends the whole time .." Kylie put rumors to rest, suggesting the supposed drama with her boyfriend's baby mama was never even a thing.
Joke's on us, guys.
Considering Kylie and Tyga have been together for over a year now, it's fair to assume Kylie has spent a lot of time with his son, which Blac undoubtedly had a say in. And in all that time mingling families, it's possible Kylie was the one who introduced Blac to her brother, Rob.
Speculations, speculations...
Regardless of what actually goes on in the lives of the Kardashian-Jenner family, they want us to believe everything is A-OK on the home front. And that's exactly what we'll do.