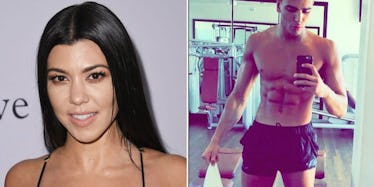 Kourtney Kardashian Hung Out With Her New BF In Cannes And There Are Pics
Getty Images/Instagram
Kourtney Kardashian does not appear to be missing Scott Disick even one little bit.
The famously on-again-off-again couple, who are also parents to three, may have finally called it quits for good.
They both seem to be moving on this time, though.
Kourtney Kardashian in particular is getting close to her new man, 23-year-old Younes Bendjima.
Kourt and little sister Kendall Jenner have been hitting up the Cannes Film Festival but decided to take a little break on the water.
The two were spotted having fun on a yacht off the coast of Antibes, a resort town between Cannes and Nice on the French Riviera, and they weren't alone.
Younes was also there getting in some time on a jet ski -- and getting close to Kourt.
They definitely look quite cozy together.
Bendjima may be 15 years younger than Kourtney, but age has never stopped Scott, so why should it stop her?
News of their romance broke earlier this month, but according to sources the relationship has been building for a while.
Some reports even say they were hanging out together at the club the night of Kim Kardashian's robbery in Paris.
Scott was rumored to be dating 21-year-old British model Ella Ross and also might have gone on a date with Bella Thorne, so perhaps he has moved on as well and doesn't care about this new relationship.
However, his comments on a recent episode of "Keeping Up with the Kardashians" say otherwise.
Commenting on their relationship, he said,
I will never be over her. She's the love of my life. I just hope that one day she understands that I would never want to be with anybody but her.
As for where Kourtney stands on the whole Scott thing (OK, where she stood at the time of filming for the current season of "KUWTK"), she just wants him to be consistent. She revealed,
I've told him, I'm living my life and you're working on you. You've never been better, but you're so inconsistent. I need to see if you can be consistent.
Honestly, good for Kourtney for worrying about herself for a change! She definitely looks happy in these most recent photos.
Citations: KOURTNEY & KENDALL AS GOOD ASS IT GETS (TMZ)