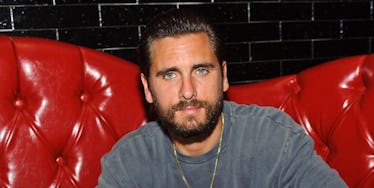 Sorry, Kourtney K: Scott Disick Is Reportedly Dating This 21-Year-Old Model
Getty Images
Kourtney Kardashian may be the love of Scott Disick's life, as he recently confessed to Kim and Khloé on an episode of "Keeping Up with the Kardashians," but that doesn't mean the two aren't kind of, maybe, definitely dating other people.
Just last week, the 38-year-old mom of three was spotted with her rumored new boyfriend, 23-year-old model Younes Bendjim, out and about in West Hollywood. According to TMZ, this romance has been going on for a few months.
Well, two can play that game, clearly.
On Cinco de Mayo, Scott Disick stepped out -- also in West Hollywood, of course -- with his rumored new girlfriend, 21-year-old British model Ella Ross.
Elite Daily reached out to Ella Ross for comment, but did not hear back by the time of publication.
The pair also reportedly grabbed lunch at Nobu earlier in the day.
According to reports, Ross is actually 19, but her Instagram says 21... hmmm fishy?
Anyway, she's obviously gorgeous.
Mason, Penelope and Reign's parents definitely have a type and it's super hot, super young models. How cute!
The saga of Kourtney and Scott is one even her sisters can't seem to figure out.
On Sunday's "Keeping Up with the Kardashians," Kim Kardashian cursed out a girl Scott invited back to his hotel room on a trip to Dubai.
Before Kim's epic tear, though, Scott had apparently discovered Kourt was hanging out with another guy (Younes Bendjim, perhaps?) and confessed how much that hurt him.
He said,
I don't think she realized a friend of mine saw her. Of course I called her and asked, and she blatantly lied to me. It was somewhat heartbreaking. I just didn't see things going this direction. I feel like everything I've been working so hard for is kind of done now.
It's tough to feel bad for the 33-year-old, however, when he does things like invite another girl on the family's vacation to Costa Rica.
If you only looked at social media, it would appear Kourtney and Scott have this whole co-parenting thing down -- at least some of the time.
But if you go off Scott's record of partying with women who are barely legal, it's only natural to be happy for Kourtney that she's finally moving on as well.
Citations: Scott Disick Celebrates Cinco de Mayo with Model Ella Ross After Kourtney Kardashian's New Romance Reveal (People)