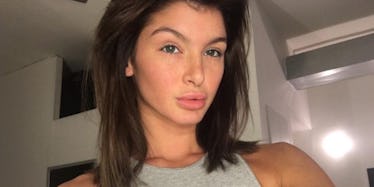 This Model Claims She's The One Scott Disick Brought On Kourtney K's Vacation
Instagram
Let's stop pretending we don't routinely watch Scott Disick take lavish hiatuses from his life as a father and partner to Kourtney Kardashian to run off with teenage models.
Let's just stop pretending, right up top.
Great.
Amazing.
Now, let's consider how nameless and, in some cases, faceless these teen models generally are.
Consider, on the other hand, how consistently outspoken Scott is about everything but the details of these trysts.
Bullshit.
Nonsense.
One of Scott's rumored young flings spoke to In Touch about her relationship with the "Keeping Up with the Kardashians" regular, because why the hell not? Speak, Bella girl. Speak freely.
Bella Banos, the 20-year-old model Scott allegedly flew down to Costa Rica and hid away in a hotel during a family vacation with Kris Jenner and Kourt, recently told the site she and 33-year-old Scott have already exchanged I-Love-Yous.
She said,
Scott calls me his girl and we have said 'I love you,' … At first, Scott was just my friend. But he got to know me on a different level. We're super connected… Scott will call and say, 'I miss you. I want to see you.' He always flies me to wherever he is. We spend so much time together.
When it comes to Scott's long-term on-again-off-again relationship with 37-year-old Kourtney, aka the mother of his children, Bella claimed she "trusts" Scott to keep it platonic.
She said,
He tells me they're just good friends.
Woah boy.
OK.
Scott reportedly left Costa Rica for Miami after a fight with Kris that, let's face it, likely had to do with the barely legal model stowed away in a neighboring hotel. He jetted to Miami where a new cache of exceptionally young women awaited him.
Bella said,
Nothing sexual has gone on between [those girls] and Scott… Scott's definitely not a sex addict. He wouldn't just have sex with any girl. Scott is just drinking and having fun.
Before you start in with a chorus of, "Oh, honey," remember some of the wondrous fabrications you believed when you were 20 years old.
I'm only just starting to wonder whether bagels aren't actually good for me, so give Bella a break.
She is very young, pretty bold for speaking out about someone with such an infamous persona and, frankly, very beautiful for someone whose last name might mean "bathrooms."
Scott is a grown-ass, child-rearing, beard-growing man. This one's on him.
Citations: BELLA BANOS DISHES ON HER RELATIONSHIP WITH SCOTT DISICK (EXCLUSIVE) (In Touch)