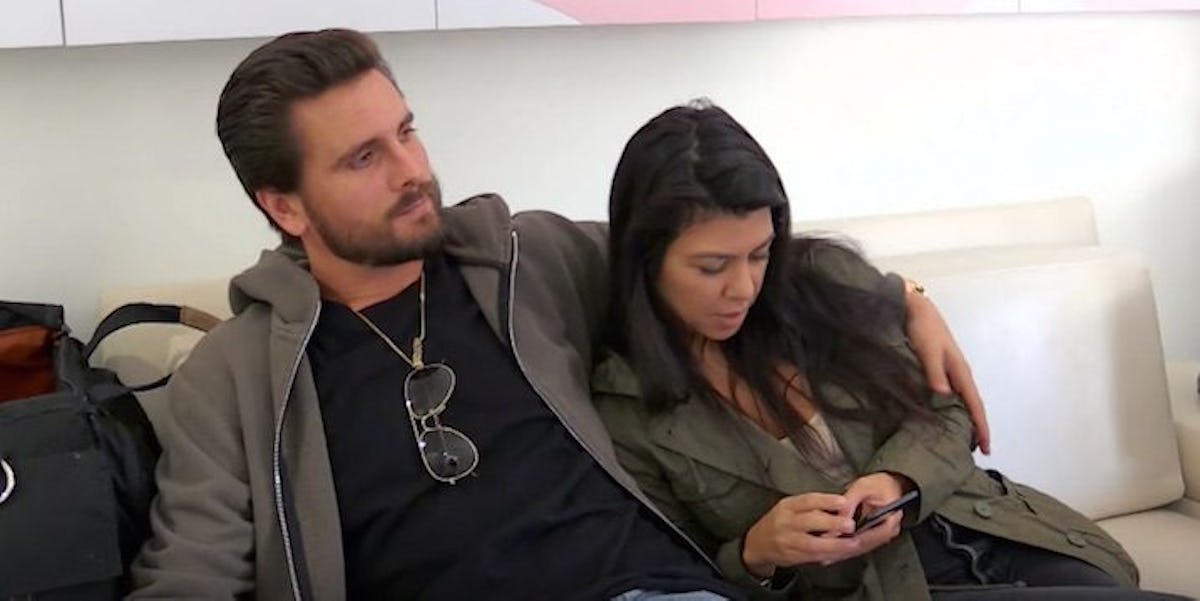 Scott Disick Says He'll 'Never Be Over' Kourtney, Despite Making Out With Model
E!
Scott Disick is reeeeally stretching to keep his last toe on the dock while the rest of his body starts sailing away on the S.S. Horny Teens.
In a new promo for season 13 of "Keeping Up with the Kardashians," the father of three says of baby mama Kourtney Kardashian,
I would never be over her, she's the love of my life.
"The love of my life" generally isn't someone you abandon on vacation in favor of smooching it up with a young model, half-submerged in heated Miami pool water, but OK.
Scott is smart to maintain a public connection to Kourtney. Aside from sharing three children, Scott forever needs Kourt's name to maintain relevance.
The man doesn't have his own Wikipedia page, but he's mentioned in hers. Allow this small fact to act as an accurate indicator for Scott's overall presence in pop culture.
As much as Scott serves as occasional comic relief for ''KUWTK" viewers, so do characters like Khloé Kardashian, who possess a charm, consistency and defensible quality Scott lacks.
His quips (like telling Kim Kardashian West, "You know what to do," just before she walked down the aisle for the third time) occasionally serve as the show's sense of self-awareness, but Scott makes us regret allowing him to be the voice of the viewer just as quickly as the words leave his mouth.
Every once in a while, we see the human side of Scott. This side doesn't shove cash into Vegas waiters' mouths or crack jokes about its mother-in-law's vagina.
Last season on "KUWTK," Scott opened up to Khloé about his fear of failure and loneliness. He told her,
You know this is gonna be, like, the longest I'm away from the kids and Kourt? Ever? … I'm kinda anxious. I'm supposed to do some appearances… It's hard to be on amazing behavior when you're at a nightclub or at a party… I could probably make money the ways that are healthier.
Scott should definitely never be over Kourtney. He gains nothing from moving on completely. Kourtney, on the other hand, succeeds either way.
Citations: Kim Kardashian Worries About ''24/7'' Security After Paris Robbery in New KUWTK Promo, Plus Did Kourtney and Scott Disick Kiss?! (E! News)