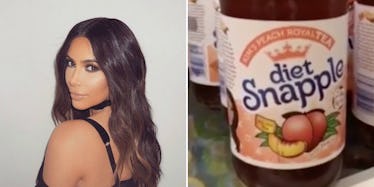 Kim Kardashian's Snapchat Hints She May Be Dropping Her Own Snapple Flavor
Instagram/Snapchat
Would you sip on a Kim Kardashian-themed Snapple flavor?
Fresh off of a months-long hiatus following the horrific Paris incident in which she was robbed at gunpoint by masked men, the 36-year-old star is returning to the spotlight busier than ever.
Aside from having to deal with another thief at the DASH boutique in Los Angeles, she's spent the last few days flooding social media with tear-jerking home videos of Kanye West and the kids.
She's also been spotted by the paparazzi looking a bit more recognizable than she's been in recent weeks.
Hey, I can't fault her for keeping a low profile after being robbed of nearly $10 million! Most of us would likely curl up and die.
Most recently, however, Kim seemed to be returning to her normal ways when she took to Snapchat to hint at a possible brand collaboration with Snapple.
While she hasn't yet confirmed the collab, it sure looks like she has something in the works. During the Snapchat post, Kim peered into a refrigerator and asked, "Do you guys see something so special?"
If you look closely, you'll see a bunch of "special" diet Snapple bottles bearing an emoji of Kim's face as well as a peach emoji.
Could Kim Kardashian be releasing her own Snapple flavor? According to her recent Snapchat, it sure looks like it.
The mother-of-two then reveals the Snapple flavor in question is actually called "Kim's Peach RoyalTEA." Genius!
According to E! News, this isn't the first time Kim Kardashian has shown her love and support for Snapple (specifically, the peach flavor). In a past tweet to good friend Chrissy Teigen, she made herself very clear.
So, will your thirsty ass be able to waltz into a nearby supermarket and pick up a bunch of these specially made Kim Kardashian "RoyalTEA" Snapple drinks anytime soon? Maybe, maybe not.
We'll just have to wait and see if these will ever be released in stores or if Snapple just gave Kim a bunch of personalized drinks because "diet peach Snapple" is her "everything."
Plus, who wouldn't want emojis on their favorite drink?
If one thing's for sure, though, it's that Kim K. has officially returned, whether you like it or not (you love it).
Citations: Kim Kardashian Might Be Getting Her Own Snapple Flavor (Cosmopolitan)