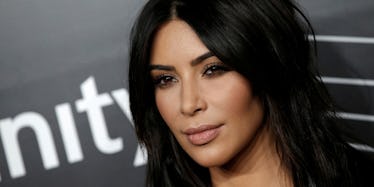 Kim K Has Another Robbery To Worry About After Someone Stole From DASH Store
REUTERS
Will Kim Kardashian ever catch a break? Not anytime soon, it seems.
Since October of last year, the 36-year-old star has been dealing with a tremendous amount of stress and trauma after a group of masked men held her up at gunpoint in Paris and made off with jewelry worth millions of dollars.
While French authorities continue to hack away at the intense investigations to nab the criminals responsible for the robbery, yet another thief targeted the Kardashians during a recent incident at a DASH store.
According to TMZ, a woman casually walked into the family's DASH boutique located on Melrose Avenue in Los Angeles on Monday just before fleeing the store with pricey clothing and fragrances.
The report states the woman was able to steal nearly $1,600 worth of products from DASH. Then, she quickly left, hopped into a silver sedan and reportedly sped off with the stolen goods.
The LAPD has not been able to find the suspect.
And just when we thought Kim was close to ridding her life of all the negativity following the Paris robbery, a new thief strikes. Something tells me Kanye West is at his wits' end after this one.
As far as the Paris robbery investigation goes, Kim should be feeling a bit better about that ordeal. French police were able to narrow down the potential robbers to 17 suspects before arresting all of them on Monday.
The photos of three of the suspects arrested made rounds on the internet. The suspects include Kim Kardashian's longtime chauffeur who is believed to have allegedly given up key information needed to pull off the robbery.
Also included is a 72-year-old man arrested under the alias "Pierre B." who is believed to have been one of the main assailants responsible for organizing the intricate heist during Paris Fashion Week last year.
Citations: The Kardashians: Dash Store Hit By Thief (TMZ)