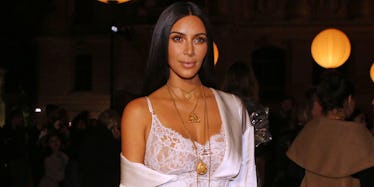 Kim K's Longtime Chauffeur Has Been Arrested In Connection With Paris Robbery
REX/Shutterstock
French police are getting closer to nabbing the suspects responsible for robbing Kim Kardashian at gunpoint in October of last year.
The 36-year-old star had been in her room at the No Address Hotel during Paris Fashion Week when a group of armed, masked men gained entry, tied her up and reportedly demanded cash, according to the concierge on duty at the time.
Instead of making off with a duffle bag of money, the thieves were able to steal luxurious jewelry worth millions of dollars. One of the rings stolen from Kim is worth an estimated $4.5 million.
Since the traumatic robbery, Kim has kept a low profile. The star has managed to keep out of the spotlight for months. When paparazzi cameras do spot her, she's been hardly recognizable.
Kim Kardashian has also been extra quiet on social media up until recently. I mean, wouldn't you kind of disappear for a bit if you were robbed of nearly $10 million? Forget going outside!
Luckily for Kim (and Kanye's sleeping patterns), French police arrested a total of 17 people on January 9, according to CNN. Of those seventeen suspects, three of them are said to be women.
Photos surfaced of three men arrested in connection with the October robbery. Now, more details regarding Kim Kardashian's longtime chauffeur are coming to light.
According to French news publication Le Monde, Kim's Paris chauffeur was arrested after various sources believed he may have given up key information needed to pull off the robbery. Can you say "inside job?!"
In addition to the 27-year-old chauffeur's arrest, a 72-year-old man arrested under the alias "Pierre B." is believed to be one of the main assailants responsible for orchestrating the crime.
As of now, the investigation is still ongoing. While authorities first admitted they were "nowhere near" catching the criminals, it seems they have taken quite a few steps in the right direction over the last month.
As for Kim, her rep says she's "very happy" and "very reassured" by the recent progress of the intense investigation. It's only a matter of time before justice is served.
Citations: New Report Claims Kim Kardashian's Trusted Paris Chauffeur Has Been Arrested In Connection To The Robbery (Perez Hilton)