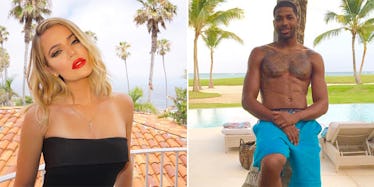 People Think Khloé Kardashian's Boyfriend Is Having A Baby With His Ex
Gather, my little gossip hatchlings, and eat these shade worms from my beak. They are covered in delicious dirt.
That is a gossip pun.  Fan favorite Khloé Kardashian and Cleveland Cavaliers player Tristan Thompson may have hit an awkward patch in their new relationship because love is eternally complicated.
The 25-year-old power forward's ex, Jordan Craig, posted a GIF to Instagram over the weekend from her gorgeous waterfront baby shower, confirming she's eight months pregnant (obvs).
Though Jordan dated Tristan on and off over the past three years, he was not tagged in any baby shower posts.
Friends and family gathered to celebrate the upcoming arrival of Jordan's son, whom they referred to as Prince Oliver.
Jordan and her guests looked flawless in every last photo snapped over the weekend, tagged #Mommy2BeJordyC.
Last month, Khloé and Tristan sucked face on Snapchat, essentially claiming one another in the most 2016 way possible.
Though Jordan posted pictures with Tristan on her Instagram during their time together, DailyMail.com reports, evidence of him has since been wiped from her account.
If Jordan and Tristan do have a strained relationship following their breakup, yet are expecting a baby together, Mama Kris may regret making any comment regarding Tristan and Khloé's fresh romance a few weeks back.
At the Brent Shapiro Foundation For Drug And Alcohol Prevention's Summer Spectacular in Beverly Hills in September, Kris shared,
They're really cute. You know, she's having a good time, he seems like a really nice guy.
Nice guy or not, he may find himself busy balancing his career as a professional athlete and co-parenting with Jordan come November.
Then again, who's more nurturing and understanding than Khloé? Remember when Kris made her the executor of her will? Or when Koko helped her then-estranged husband, Lamar Odom, recover from the brink of death?
In 32 short years, Khloé has lived a life already. Some ex drama, even of this magnitude, may not scare her away.
Citations: Is Khloe Kardashian's new man having a baby with another woman? Tristan Thompson's ex shows off her bump for the first time Read more: http://www.dailymail.co.uk/tvshowbiz/article-3831307/Is-Khloe-Kardashian-s-new-man-having-baby-woman-Tristan-Thompson-s-ex-shows-bump-time.html#ixzz4MnS7hGHY Follow us: @MailOnline on Twitter | DailyMail on Facebook (Daily Mail)