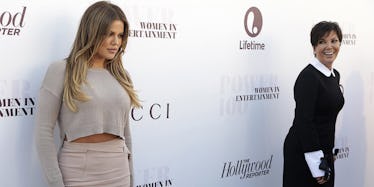 Kris Jenner Approves Of Khloé K's New Guy, So He Must Be Here To Stay
REUTERS
NBA player Tristan Thompson and our main girl Khloé Kardashian have been turning up the HEAT on Snapchat.
We reported things got steamy with this star-studded couple super fast when they packed on the PDA at Rockwell Nightclub in Miami.
This romance is most certainly Snapchat official.
According to People, Kris Jenner weighed in on Khloé's relationship with Tristan.
While speaking with reporters at the Brent Shapiro Foundation for Drug and Alcohol Prevention Summer Spectacular, Jenner gave us the entire scoop.
They're really cute. You know, she's having a good time, he seems like a really nice guy.
AW, Kris!
Jenner continued to dish about what makes Khloé and Tristan's relationship awesome.
I think just with any relationship, just in life, I think it's about chemistry and about values and about you know, about how two people get along.
This fling is momager Kris Jenner-approved. Could things get any better than that?!
Citations: Kris Jenner Gives Her Seal of Approval to Khloé Kardashian's New Man: 'They're Really Cute' (People)