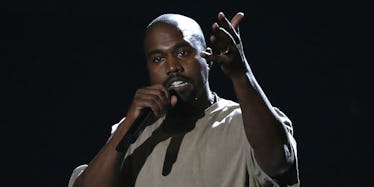 Kanye West Proves He's Still Hung Up On Taylor Swift Drama At Nashville Show
REUTERS
Kanye West apparently loves drama, especially when it comes to Taylor Swift.
Like most of us, the "Famous" rapper is just obsessed with her — whether he likes her as a person or not.
During Kanye's show last night at the Bridgestone Arena in Nashville, Tennesse, he made the audience scream the lyrics about her in "Famous." Keep in mind, Nashville is where Taylor started her career as a musician.
Taylor has openly (and rightly) taken issue with the controversial lyrics in his song "Famous" that go, "I feel like me and Taylor might still have sex. Why? I made that bitch famous."
According to The Tennessean, Kanye actually made his DJ stop the song and play it from the beginning not once, not twice, but three times to hear the audience scream those lyrics.
He said,
I need to hear that loud in Nashville. I need to hear that so loud in Nashville.
Of course, this was only 10 minutes into his set.
He screamed along with the audience on the last time. Wow. Kanye wanted to make a very important point to his audience. He said,
So many people told me, "You've gotta take that line out of the song. You gotta play it safe. This is what rap music is. This is what art is. Saying how you feel. And this song is how I feel. Run that shit back."
You can see how much Kanye loves this moment in the video below.
At this point, I think it's starting to get a little creepy.
The beef between Kanye and Taylor goes back a couple years, but they actually reached a friendly point in their relationship last year.
Of course, that spoiled pretty quickly after the release of Kanye's song, "Famous" earlier this year.
Their beef has really been drawn out, mostly on Kanye's part.
I mean, first of all, Kanye West's wife Kim Kardashian leaked a video of the phone call  where Kanye asked Taylor if she was cool with dropping her name in his song.
Kanye also posted a weird picture of his new album "Famous" and her album "1989" stitched together on a T-shirt.
He called her out during a surprise stage appearance at one of Drake's shows.
He also featured a naked Taylor Swift among other celebrities in his video for "Famous."
And we'll never forget his awkward AF speech at the VMAs where he talked about Taylor. She wasn't even in the room.
While Taylor definitely responded to most of these digs from Kanye, she hasn't made as much effort to drag this whole thing out. She not-so-subtly referred to the "Famous" lyrics in one speech earlier this year.
But even MONTHS after all of this went down, Kanye is still not over it. He's obsessed!
Some say he wants to make peace, but I think he's just being a drama queen.
And you know what? I bet Taylor would never even waste her precious time writing lyrics about Kanye in a song on one of her albums.
When are you going to leave it alone, Kanye?
Citations: Kanye West makes Nashville scream lyrics about Taylor Swift (The Tennessean)