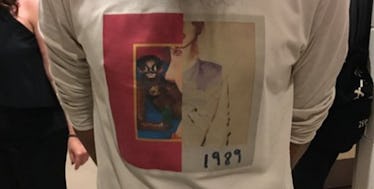 Kanye West Just Tweeted A Message To Taylor Swift And Twitter's At War
Twitter
It looks like Kanye West is finally sending a peaceful message to Taylor Swift after the whole Kimye vs. Taylor feud went down this past July.
On the Monday following the 2016 MTV Video Music Awards, the rapper posted a rather odd image on his Twitter page.
It's unclear who's wearing this shirt (though he has a very impressive beard), but the image is a mashup of Taylor Swift's album cover for 1989 and Kanye West's album cover for My Beautiful Dark Twisted Fantasy.
He captioned the tweet,
Unity love.
Twitter immediately jumped to take sides in this epic feud that's been going on since 2008.
There was significantly less Kanye-Taylor drama at the VMAs last night than many people expected — largely because Taylor wasn't present — but Kanye did give her a shout-out during his awkward four-minute speech.
He said,
You know, like, people come up to me like, 'Man, that's right… Take Taylor?' I love all y'all. That's why I called her!
So it looks like Kanye is still trying to make peace with Tay — or at least he's trying to get some publicity for trying to make peace with Tay.
Unfortunately, Taylor is currently fulfilling her civic responsibility at jury duty at the moment, and might be in a court room with poor cell reception right now. So I'm not sure if she got Kanye's message.
Unity and love, people! Unity and love.
Update, 2:49pm: The mystery man with the impressive beard is Kanwer Singh, AKA @HumbleThePoet on Twitter.
#vmas pic.twitter.com/UbXNkCtsIi — HumbleThePoet .com (@humblethepoet) August 29, 2016
He's just a lucky fan with awesome shirt-making skills that Kanye made famous.