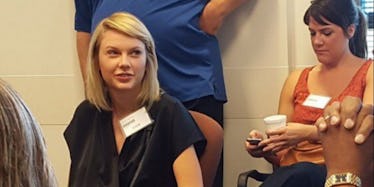 Taylor Swift Didn't Show Up To The VMAs But She Did Show Up At Jury Duty
Twitter
WTF, is Taylor Swift really just like us?!?!
Last night, celebrities gathered in NYC for MTV's Video Music Awards and it was certainly a night to remember.
Everyone from Kanye West and Kim Kardashian to Rihanna and Beyoncé was there, so you know it was a wild night.
However, there was one big star who decided to skip the show. Yup, Taylor Swift sat this year out and didn't show up to the VMAs.
Even though she wasn't physically at Madison Square Garden, she was still the star of the show.
Kanye West called her out in his speech and fans trolled her on Twitter.  Sounds like a great night, right??
Well, according to Twitter, it looks like Taylor missed the VMAs because she had to go to jury duty!
LOL YEAH. The 1989 singer appeared in court on Monday morning in Nashville. Imagine what it was like for some of these people to show up and see Taylor Swift sitting there, ready to go.
I would have 100 percent peed my pants.
JUST LOOK AT THIS. TAYLOR SWIFT IS HUMAN.
I don't even believe what I see.
pic.twitter.com/CNUrynsWeP — Tracy Bates (@TracysActivism) August 29, 2016
Did she even watch the VMAs? Or was she in bed by 8 pm for this?
My mind is blown.
I'm not the only one who thinks this is crazy. Twitter is laughing about it, too.
Well, thanks for doing your part, Taylor! What a great citizen. Now, uhhh, can I get an autograph too?!