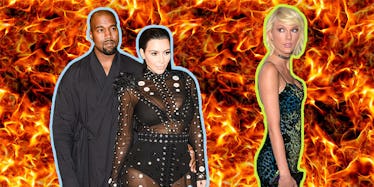 We All Missed This Huge Detail About The Taylor Swift-Kimye Feud On 'KUWTK'
Rex/Shutterstock
Guys, there's a huge detail about Taylor Swift's feud with Kim Kardashian and Kanye West, AND WE ALL MISSED IT.
Seriously, why is nobody talking about this?!
Let me quickly recap what went down, just so we're all on the same page.
Sunday night, Kim Kardashian leaked a phone call between Kanye West and Taylor Swift on her Snapchat about his song "Famous."
Kimye has been feuding with Taylor ever since the lyrics were released because the opening lines reference the 1989 singer. Specifically, these ones:
For all my Southside niggas that know me best I feel like me and Taylor might still have sex Why? I made that bitch famous.
In Kim's Snapchats, you can clearly hear Kanye provide multiple details about the words he chose to use. You can even hear him read the line,
I feel like me and Taylor might still have sex.
Once the phone call was leaked, fans went crazy. Kim K broke the Internet and she wasn't even naked. THAT'S HOW INSANE THIS DRAMA IS!
But stay with me. There's something we all missed.
During Sunday night's episode of "Keeping Up with the Kardashians," Scott Disick asked Kim about the "Famous" video and their family's feud with Taylor Swift.
Kim explained to Scott Taylor fully approved the lyric, but she was "acting like she didn't." She also mentioned how Kanye West's video crew is always with him when he's recording an album.
Then the clip cuts to Kanye in the studio reading his lyrics to "Famous," but something's different. Here, I'll let you see what I mean.
According to the footage, Kanye's original lyric for the song was, "I feel like Taylor Swift might owe me sex."
UM, WHAT?
The final lyric ended up being switched to "I feel like me and Taylor might still have sex," but that's a pretty big change.
WHY, KANYE? WHAT WAS THE REASON?
When you look at this old tweet from Kanye West, he mentions Taylor Swift was actually the one who came up with the line.
Could this perhaps suggest the two discussed the change together?
OK, HERE'S WHERE THINGS GET JUICIER.
The edited line in "Famous" might have been a reference to an old song Kanye was featured in.
In 2008, Young Jeezy released the song "Put On" featuring Kanye. During his part in the song, Kanye rapped,
I feel like there's still bitches that owe me sex.
It happens at the three-minute mark, in case you want a refresher.
HMMMMM. Sounds pretty damn similar to "I feel like Taylor Swift might owe me sex," doesn't it?
Was this all being foreshadowed EIGHT FREAKING YEARS AGO?
I don't know, my head hurts. Hopefully we find out more gossip on the next "KUWTK" episode.