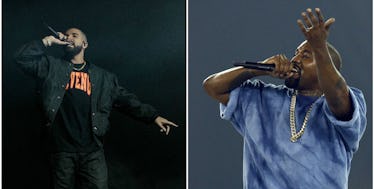 Kanye West Slammed Taylor Swift During A Surprise Performance With Drake
REUTERS/REX/Shutterstock
Love him or hate him, Kanye West is here to stay -- SO Y'ALL JUST GOTTA DEAL, K?
He's arguably more famous now than ever, thanks to that whole Taylor Swift drama.
Oh yeah, and he's married to Kim Kardashian. That probably helps, too.
So when he makes a special guest appearance on stage, you need to understand that it's the most exciting thing ever for Kanye fans like me.
Drake wheeled him out for his Summer Sixteen Tour in Chicago Wednesday night -- and the room was lit.
The best part? He totally slammed Taylor Swift.
Kanye landed on stage dressed in his Yeezy gear and swaggered so hard while shouting,
I am so glad my wife has Snapchat. 'Cause now y'all can know the truth...can't nobody talk shit about YE no more.
Check it out:
WOOOOO. YES, KANYE!
Of course he performed "Famous" -- how could he not?!
Then he did another song from his new album, Life of Pablo:
The whole place was kicking off, obviously. YE IS IN THE HOUSE.
There were hugs, too.
@Drake and @kanyewest hugging at today's concert in Chicago #myloves #SummerSixteenTour pic.twitter.com/3f3hlh6GSO — Cecilia I. Gomez (@Cecaayyy) July 28, 2016
I'm going to have to sit down after that. The excitement was overwhelming.