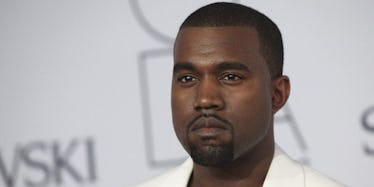 Kanye West's Copying Kylie Jenner And Releasing His Own Cosmetics Line
Rueters
If you've been paying attention to the latest celebrity business endeavors, you may have heard 5-year-old Blue Ivy Carter is teaming up with her pop star mom, Beyoncé, to launch a new Blue Ivy Carter beauty line.
However, it turns out Bey and Blue Ivy aren't the only famous entrepreneurs trying to break into the beauty business and compete with celebrity makeup moguls like Kylie Jenner.
Apparently, Kanye West is also planning to go head-to-head with the lip kit queen by creating his very own collection of beauty products.
The rapper recently filed legal documents to announce his intention to produce and sell makeup, perfumes, lotions and other cosmetics.
That's right. Kanye West is basically copying his 19-year-old sister-in-law Kylie Jenner and releasing his very own cosmetics line.
It looks like Kylie Cosmetics is about to have a lot of star-studded competition on its hands.
Now, I know what you're probably thinking, and the answer is no. Kanye is not trying to shamelessly steal Kylie's thunder by naming his new cosmetics line, "Kanye Cosmetics."
Instead, Kanye decided to name the new company after his beloved mother, Donda, who passed away in 2007 after suffering lethal complications from an elective surgery.
Some people are wondering how Kanye's DONDA cosmetics line is going to stack up against Kylie's makeup empire.
After all, her highly sought-after products have a tendency to sell out in minutes and reappear on eBay at insanely steep prices.
Approval for Kanye's application to create the DONDA cosmetics collection is still pending.
However, it appears the makeup business isn't the only one Kanye wants to go after.
This hip-hop entrepreneur has revealed he basically wants to be create a lifestyle brand, similar to that of Martha Stewart, which includes everything from credit cards, furniture, video games and boats, to fitness centers, amusement parks, hotels and healthy fast food restaurants.
If there's one thing we can learn from Kanye's plans to conquer the world, it's that you can never dream too big.
Citations: Look Out, Kylie I'M GIVING YOUR CUSTOMERS A LASHING!!! (TMZ)