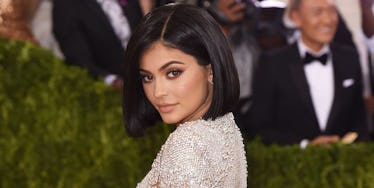 The 12 Stages Of Emotions When Trying To Buy A Kylie Jenner Lip Kit
David Fisher/REX/Shutterstock
I had a panic attack this morning. It's not because I had an interview or a big date. It's because I was trying to buy the Kylie Jenner lip kit, set to go on sale at 4:30 EST.
I'm aware there are scarier things in the world. There are certainly far more serious ones that I should've been more concerned about, like whether my nail salon sterilizes its tools or whether Donald Trump will be the next president of the United States.
However, I like to take things one at a time. Today, my goal was obtaining the new Kylie Jenner lip kit in "Dead of Knight," which appears to be a matte black gloss. My biggest foe in this endeavor? Time. Also, the occasionally shitty office WiFi.
I love black lipstick. Bitch lips are kind of my thing. I'm also really curious to see how this will stack up against the black lipsticks I already own, like the MAC Lipmix in Black and Kat von D Everlasting Liquid Lipstick in "Witches." What else am I supposed to spend my money on? A 401K? Paying off my student loans? Charity? Yeah, screw that.
The thing is, getting your claws on a Kylie lip kit entails an emotional roller coaster. I did this once before a couple months ago, and it was the single most grueling thing I've done in my entire life (and I trained for the marathon three years ago, damn it).
Like grief, getting a Kylie lip kit meant I had to go through 12 stages. Spoiler alert: One involves ugly crying.
Stage One: Hunger.
Fact: Trying to get a Kylie lip kit automatically makes you qualified for a job as a detective. You aggressively stalk every single one of Kylie's access points to the real world: Snapchat, Twitter, Instagram. You try to enlist your friends to help you, but they think you're cuckoo bananas and ignore your group chat. You consider getting new friends, but a life with Kylie lip kits is a life best lived solo.
Eventually, Kylie or one of her lip-kit goons reveals a time for a release. It's like Christmas, your birthday and Frappuccino happy hour rolled into one.
Stage Two: Delirium.
It's the day of the release, and you can't stop refreshing. What if Kylie tricked us? What if it was actually in EST not PST? What if the site link changes? You can't be left in the dark.
You set up notification alerts for the Kylie lip kit Twitter account and pray.
Stage Three: Anger.
You haven't slept. You haven't eaten. Your pointer finger is getting tired from pressing "F5." You're pretty sure you haven't blinked in eight hours. How could Kylie do this to you? How could she destroy your life like this?
You almost consider backing down but remind yourself that lip-kit glory only comes to a chosen few. You wait. You begin to wonder how many calories are in a Kylie lip kit.
Stage Four: Depression.
You're convinced 4:30 will never come. The lip kits will never go online. You've failed in your mission to yourself, to Kylie and to humanity.
You'll never know the feeling of swiping a matte black liquid lipstick on your lips. You'll never have lips like Kylie. You might as well curl up into fetal position and cry yourself to sleep now.
Stage Five: Hunger (again).
CAN SOMEONE GET ME A BURRITO FROM CHIPOTLE, PLEASE I'M DYING.
Stage Six: Hope.
It's so close, you can almost taste it. You almost have your hands on overpriced liquid lipstick greatness. It'll soon be over. You will soon click "complete my purchase" and move on with your life.
Until then, keep refreshing like Ryan Gosling is standing behind you and egging on your matte lip dreams.
Stage Seven: Pain.
OMG THREE MINUTES.
The site says they're restocking. You're almost there.
At this point, you've been refreshing so much that your finger has cramped and you're well on your way to becoming a zombie. But, like, a chic zombie.
Stage Eight: Confusion.
WAIT, THEY WENT LIVE AT 4:29! THEY SAID THEY WOULD AT 4:30! HOW CAN THEY DO THIS TO ME?
Stage Nine: More Pain.
The act of clicking physically hurts after refreshing for the last three hours. It feels like a release, but also, you're pretty much dying.
Stage 10: Desire.
OK, so you dropped "Dead of Night" in your basket. Should you get Dolce K, too? What about Koko K? Is this like Pokémon and you should catch 'em all?
Stage 11: Anticipation.
WHY IS IT TAKING SO LONG TO COMPLETE MY PURCHASE? SOMEONE TAKE MY MONEY, PLEASE!
Stage 12: Bliss.
I'm ugly crying. I can't breathe. I can't.
I can die happy.