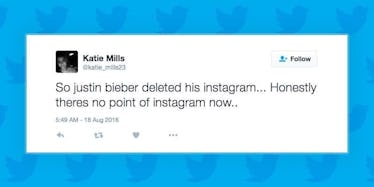 Justin Bieber Fans Literally Can't Cope With His Social Media Silence
Well, it looks like Justin Bieber really isn't coming back to Instagram.
You can say a lot of things about JBiebs, but you can't say he makes empty threats.
On Tuesday, the 22-year-old pop star made good on his promise to delete his Instagram account because fans just wouldn't stop being mean to his gal pal, Sofia Richie.
Of course, it probably didn't help when his ex Selena Gomez chimed in to drag on him for being a baby and also call him a cheater.
Selena has since apologized, but apparently it was too late to say sorry. It's been two days and it doesn't look like the Biebs is coming back anytime soon.
If fans thought this was going to be a "Demi Lovato deleting her Twitter only to reactivate it the next day" type situation, they thought wrong.
Beliebers are really starting to miss their favorite whiny pop star.
Many fans are asking nicely to coax sensitive Justin back to the 'Gram.
I miss you on instagram @justinbieber — Madison (@Madisonogg) August 18, 2016
@justinbieber why you deleted your instagram account? — Jason Yau (@JasonYau13) August 18, 2016
I miss stalking u on Instagram @justinbieber — دانة☾ (@dana_yd) August 18, 2016
Others are just giving into the despair.
And there's always someone who goes for the tough love method.
Selena, a little help here?