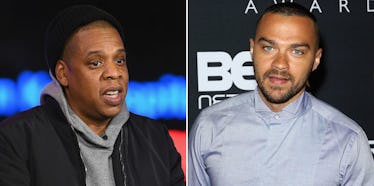 JAY-Z, Jesse Williams, And More Talk About Heartbreak In Emotional '4:44' Bonus Video
Dave Kotinsky/Gabe Ginsberg/Getty Images
JAY-Z has just released a new video to accompany 4:44 called "Footnotes for 4:44." The video features celebrities like Will Smith, Anthony Anderson, Jesse Williams, Kendrick Lamar, Mahershala Ali, JAY-Z, and others talking about heartbreak, vulnerability, and relationships between black men and black women and how they have learned to navigate them.
The video opens with a powerful line from Chris Rock saying, "Everyone wants to feel needed on some level."
JAY-Z comes in at about the one-minute mark explaining some of the lyrics behind 4:44's titular song, "4:44."
What I thought when I met my dad was, 'Oh, I'm free to love now.' But it's like, OK, yeah, but how are you gonna do it? You want to do it, and I get it. Now how are you gonna do it? You've never done this before, no one informs you how to do this. You don't even have the tools to do it. 'Oh no, but I'm gonna do it 'cause I'm ready.' And that's why I say [in the song "4:44"], 'You matured faster than me, I wasn't ready.'
"4:44" is the fifth song on JAY-Z's newest album. JAY-Z said he thinks it's one of the best songs he's ever written in an interview with iHeart Radio when the album dropped on June 30, 2017.
He said,
'4:44' is a song that I wrote, and it's the crux of the album, just right in the middle of the album. And I woke up, literally, at 4:44 in the morning, 4:44 a.m., to write this song. So, it became the title of the album and everything. It's the title track because it's such a powerful song, and I just believe one of the best songs I've ever written.
The entire album touches on racial inequality, fatherhood, his infamous fight with Solange, his mother's coming out, and leaving behind a lasting legacy, but "4:44" is specifically about the fact that he cheated on Beyoncé and all that followed.
On rebuilding his relationship with Beyoncé, he said,
This is my real life. I just ran into this place and we built this big, beautiful mansion of a relationship that wasn't totally built on the 100 percent truth and it starts cracking. Things start happening that the public can see. Then we had to get to a point of 'Okay, tear this down and let's start from the beginning' … It's the hardest thing I've ever done.
He continued,
We just got to a place where in order for this to work, this can't be fake. Not one ounce. I'm not saying it wasn't uncomfortable because obviously it was. But because we've been doing it for so long, it was less uncomfortable.
Grey's Anatomy star and activist Jesse Williams also had some powerful words about the rumors surrounding his recent divorce from wife Aryn Drake-Lee, who has has two children with.
The unconfirmed gossip said the split was due to Williams having an affair with Friday Night Lights actress Minka Kelly.
He said,
I was in a relationship 13 years, 13 real years, not 5 years, not 7 years, 13 years and all of a sudden motherf*ckers are writing thinkpieces that I somehow threw a 13-year relationship — like the most painful experience I've had in my life, like with a person I've loved with all of my heart — that I threw a person and my family in the trash because a girl I work with is cute.
The men in the video discuss the unfair standard black men are held to saying they need to "be a man" by not showing any emotions whatsoever, as showing emotion makes you look "weak." But that's not reality.
Men are just as complex and emotional as women, and saying the "right" way to be a man is to suppress all of those feelings is harmful. Many of the men go into detail about what it took for them to learn how to be OK with being emotionally vulnerable with their partners and themselves.
Kendrick Lamar touched on that by saying,
Kids that was raised the way I was raised, with their hardness, I would break that down by telling them to think of the most excruciating thing you can feel — as far as a loss — how would that make you feel? Recognize that emotion prior to even having it. There's a key word in this: it's perspective. Take that same perspective of how you feel to what the next person may or may not be going through. And that's going to bring compassion.
Most of the shots in the video show all of the men sitting in a circle together in what looks to be a recording studio.
The video is about 11 minutes long, and it clearly was created as a visual supplement for the deeply emotional honesty conveyed throughout all of 4:44.