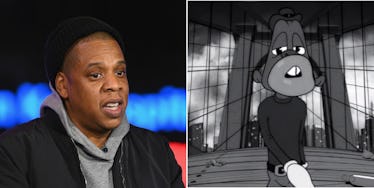 In '4:44,' JAY-Z Shows How Racism Affects All Black People, Regardless Of Class
Getty Images/Tidal Screenshot
JAY-Z released his 13th album, 4:44, on Thursday, June 30 to a frenzy of hungry fans who waited online until midnight to hear what the legend has to say after years without a full album release.
People can't stop talking about the juicy info he shared about his marriage, family, and celebrity friendships — but JAY-Z also has a lot to say about what's going on in the world, socially.
In other words, this is JAY-Z being peak JAY-Z, and the music climate is better for of it.
One of the most thought-provoking records on 4:44 is his mid-tempo song, "The Story Of O.J." It's the only full song with a video accompaniment — on which he addresses class separations within the black community.
He jumpstarts the song with the chorus,
Light n****, dark n****, faux n****, real n**** Rich n****, poor n****, house n****, field n**** Still n****, still n****
For the opening lines of the first verse, he raps,
O.J. like, "I'm not black, I'm O.J." …OK.
JAY-Z's line addresses the infamous quote that ESPN journalist, Robert Lipsyte, said Simpson shared with him during the Made In America special.
Lipsyte said,
He overheard a white woman at the next table saying, 'Look, there's O.J. sitting with all those n***ers.' I remember in my naiveté, saying to O.J., 'Gee, wow, that must have been terrible for you.' And he said, 'No. it was great don't you understand? She knew that I wasn't black. She saw me as O.J.'
The animated video shows an exaggerated animation of JAY-Z and other images who represent the different kinds of black people that JAY-Z address in his song's hook. I see no coincidence in the similarity of these black caricatures to the racist imagery of blackface minstrel shows that began in the 19th century.
Instead of poking fun at black people, as these minstrel shows were created to do, JAY-Z's usage could be perceived as an address of the long-running jokes about his African-American facial features, particularly his lip and nose size. The animations are the visual reminder that no black people are exempt from racialized targeting.
JAY-Z follows the opening lines about O.J. with lyrics that not only address black celebrities who have separated themselves from the black community like O.J., but also raps about the importance of these prominent black celebrities finding their way back by investing money and time into the black community.
O.J. isn't the only black celebrity who rejects their African-American status.
JAY-Z making an entire song surrounding O.J.'s separation is as much about our culture today as it is about a famous black football player not wanting to be considered black years ago.
A pattern seems to exist that shows some individuals reaching a point of success, then attempting to distance themselves from blackness in some way (by denouncing the label, or otherwise), which appears to be a result of internalized racism that says a black or African-American identity is somehow "less than."
Think Raven Symoné, who confidently shared that she does not identify as an African-American during a 2014 episode of Oprah's Where Are They Now?
She later clarified to E! News in a statement, writing,
I never said I wasn't black. I want to make that very clear. I said, 'I am not African American.' I never expected my personal beliefs and comments to spark such emotion in people. I think it is only positive when we can openly discuss race and being labeled in America.
Her clarification still left things a bit fuzzy, since being a black person who was born in American usually renders you an African-American.
Model, Devyn Abdullah, who won the modeling The Face, also told Wendy Williams during a 2013 interview,
I don't really consider myself as a black girl model. I know what my ethnicity is, but I'm fair-skinned and I feel like I have an international look.
Then there's Tiger Woods, who has chosen not to identify as black or African-American, but instead as a "Cablinasian." You know, because he's mixed.
What these celebrities seem to overlook is that it doesn't matter how they try to distance themselves from blackness. To the outside world, they are black and can still find themselves in positions where that blackness is targeted. JAY-Z points this out with his "still a n****" lyric.
NBA superstar, LeBron James, said as much when his house was vandalized with the n-word spray painted on it just a few weeks ago.
LeBron shared,
No matter how much money you have, no matter how famous you are, no matter how many people admire you, being black in America is tough.
Imagine how tough it is when you don't have that financial and famous privilege, and the black "heroes" you look up to who do have it denounce their blackness or their African-American identities. They are the ones you rooted for because they shined on stages and silver screens that, previously, black people were only allowed to occupy minimally, if at all.
That is how I felt when Symoné said she wasn't African-American, after I'd grown up watching her on The Cosby Show and adored her on That's So Raven.
She represented teenage African-American girls on television when there were so few given starring roles, and it was my hope that she would be proud to carry that label and show the world how valuable we are.
JAY-Z pushes famous black people to abandon this behavior and step into their black identities.
This message of unity in "The Story Of O.J." is right on time.
Not only do we live in times when black lives are threatened at every turn, but we also have had other popular rappers send messages that are very contrary to the one in "The Story Of O.J."
New school rapper, Kodak Black, just set social media ablaze after he recently stated that he doesn't like dark-skinned black girls because they are too "tough."
In November 2016, Lil' Wayne angered and ostracized a lot of his black fans when he shared that he felt Black Lives Matter "has nothing to do with him" on ABC's Nightline. Before that, in September, he said on Fox Sports' Undisputed show that "racism doesn't exist."
In 4:44, JAY-Z seems to want to challenge his rich peers to check themselves and realize that green money doesn't negate their black skin.
That said, JAY-Z has some privilege of his own to check.
Be clear, everyone is problematic somehow.
JAY-Z is right about the "still a n****" concept, but denouncing your blackness is no less wrong than doing things to disadvantage black people, as he has been accused of.
In "The Story Of O.J.," JAY-Z raps about how he's created his music-streaming service, Tidal, and done other things to teach financial freedom to more black people.
It's also public knowledge that he's bailed Black Lives Matter activists out of jail, bailed fathers out of jail on Father's Day, called out the racist War On Drugs, and brought the late Kalief Browder's name to the national spotlight. (Browder was a young man who was wrongfully held in Rikers Island for three years and later committed suicide after his release.)
Still, JAY-Z took part in a gentrification wave when he participated in bringing the Barclays Center to Brooklyn, NY in 2012.
Although the mogul has since sold his part of the company, he was heavily criticized for bringing in a facility that displaced residents. Buildings were bought out and demolished, as described in the documentary entitled Battle For Brooklyn.
People lost their homes, seemingly because individuals with influence and bigger bank accounts had their way.
On 4:44, and specifically "The Story Of O.J.", we see a man who seems ready to take some responsibility for his mistakes, urging others to do the same, and then committing to do better.
JAY-Z has done plenty of work for black people since the Barclays Center opened, but I hope his current message also involves the understanding that there's more than one way to separate yourself from the black community.