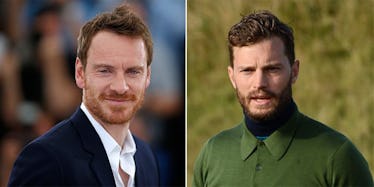 14 Pictures Of Super Hot Irish Guys We All Want To Have Sex With
REUTERS /REX/Shutterstock
Today is St. Patrick's Day, an alcohol-induced day that tends to encourage the consumption of green-dyed processed foods and all the beer and whiskey within arms reach.
And while most people will be blacked out before noon, I will be here (note: my office), worshipping the true reason this Irish holiday is one of my all-time favorites: the men.
There's just something about their accents, innate charm and charisma and ability to grow such a thick, sculpted beard that makes my pants drop immediately to my ankles.
In honor of the big holiday, I've rounded up the sexiest celebrity lads that you most definitely wouldn't mind crawling into bed with.
Top of the mornin' to ya!
1. Michael Fassbender
Fassbender may be known to attract all things metal with his role as treacherous mutant Magneto in the "X-Men" films, but the only thing drawn to him right now is me and my oddly timed erection.
2. Jamie Dornan
When I watch "Fifty Shades of Grey," it's not for the top-notch acting or the quality cinematography. I'm drooling over the sleek body curves of leading man Dornan, wishing I could reside permanently in that Red Room of his.
3. Niall Horan
Horan made a substantial name for himself in the music biz as one of the original One Direction heartthrobs.
Since going solo, I've come to conclude two very important things: His voice triggers my tear ducts to open, and I would pay millions for him to regularly sing me to sleep.
4. Colin Farrell
Colin Farrell is the guy who takes you out for a nice steak dinner, fucks you real, real good and then calls you Joan as he sneaks out when your name is clearly Susan.
It doesn't matter though, because with a face like that, he can call you whatever he desires.
5. Liam Neeson
Neeson has already proven that he has a special set of skills in "Taken," but do those skills involve my eyes rolling into the back of my head?
6. Chris O'Dowd
It's always the funny ones that end up being fireballs in bed. Since he managed to sweep comedy queen Kristen Wiig off her feet in "Bridesmaids," that's all the evidence I need.
7. Jonathan Rhys Meyers
Myers has quite the acting experience from playing the "King of Rock and Roll" to an actual King of England, before portraying an iconic bloodsucking vampire. Talk about being versatile — my favorite.
8. Colin O'Donoghue
There aren't many Disney characters whose faces I'd sit on... and then I saw Colin O'Donoghue as Captain Hook on "Once Upon A Time." Judge me as you will.
9. Chris Evans
Now, Chris Evans may not technically be a full-blown Irishman, but his half-Irish family roots are as good as any for him to earn a spot on this list. Realistically, he could've been Cameroonian and still have made the cut.
10. Devon Murray
Harry Potter may have gone down as the iconic "boy who lived," but it was Seamus Finnigan whose wand I was always dying to catch a glimpse of.
11. Jack Reynor
25-year-old Reynor shipped off to Ireland early in life after being born in the States, and each day, I wish he would just come back to me.
12. Domhnall Gleeson
Another "Harry Potter" vet, it was Gleeson's take as an innocent programmer in sci-fi film "Ex Machina" that had me yearning for time alone with a ginger.
13. Cillian Murphy
I'm not sure if it's a combination of those piercing blue eyes and the silky, Irish sound that comes out of his mouth, but I am SOAKED.
14. Pierce Brosnan
Daddy, may I?
And to all these men, I just have one other question to ask: Are those Guinness cans in your pants, or do you just have really huge penises?
Happy St. Patrick's Day, everyone!