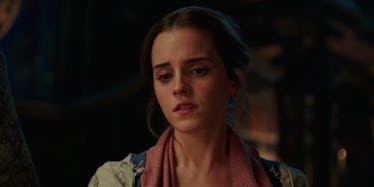 There's A 'Harry Potter' Reunion In 'Beauty And The Beast' And No One Noticed
Disney
Attention, everyone! There's a new "Beauty and the Beast" poster and it's star studded AF.
The Instagram account for the movie posted this baby on their page just in time for the Golden Globes.
Check this ish out:
Wow. So majestic. Such beauty. Much beast.
The caption reads,
#BeOurGuest and see an all-new look at Beauty and the Beast tonight during the #GoldenGlobes
OK, no problem. I'll be right on my couch waiting through the entire awards show just to see the new footage of Hermione Granger Emma Watson in her new regal role.
And look! Hermione Emma tweeted the pic, too! (Why can't I get "Harry Potter" out of my head?)
Up until now, the only cast members we've seen in the sneak previews have been Emma, the guy who plays the beast (Dan Stevens), the guy who plays Gaston (Luke Evans), Josh Gad (aka Olaf from "Frozen") as Le Fou and the various animated characters the '90s made us love.
But now, NOOWWWWWW, we've been graced with a full cast photo and I literally can't handle it all. This new poster features the stars in their human form.
It has Sir Ian McKellen as Cogsworth, Ewan McGregor as Lumiere, Audra McDonald as Garderobe (the wardrobe), Kevin Kline as Belle's father, Stanley Tucci as the new character Cadenza (who apparently is a grand piano when under the curse), Gugu Mbatha-Raw as Plumette (the feather duster) and Emma Thompson as Mrs. Potts.
Wait... did you say Emma Thompson? AS MRS. POTTS???
You mean THE Emma Thompson, aka PROFESSOR TRELAWNEY FROM THE "HARRY POTTER" FRANCHISE?!
I KNEW there was a reason I couldn't get "Harry Potter" out of my head!!
OK, let's talk about how perfect this casting is for like, five minutes.
First off, Emma Thompson is a queen. She's been in all of your favorite movies like "Love, Actually" and "Saving Mr. Banks." The woman is a legend.
Second, her casting as Mrs. Potts is LIT.ER.AL.LY. perfect because she's already an expert with cups all thanks to her experience with divination!!!
Remember in "Harry Potter And The Prisoner Of Azkaban" when Harry and Ron were in their divination class and our girl Sybill Trelawney got all ~spooked out~ because Harry had The Grim in his cup?
Also LOL, remember when Hermione totally hated this class because it was the one magical thing she wasn't good at? Poor Emma Watson can't read cups.
But Emma Thompson can.
And now she can apply her vast knowledge of cups to "Beauty and the Beast!"
BECAUSE, GUYS, HER SON IN THE MOVIE IS LITERALLY A CUP!
Emma Thompson playing Mrs. Potts — aka Chip's mom — is the most magical thing I could ever imagine.
It's like she's taking Harry's grim cup right out of "Prisoner of Azkaban" and giving it life by literally turning it into Chip, the beloved chipped cup from the original animated movie.
Simply put, "Harry Potter" is all over "Beauty and the Beast" and it's the crossover we never knew we needed.
It's worth noting that the internet doesn't think the new Chip is all that cute.
But, like, whatever. You try and be the cutest lil' chipped cup on the planet when you're jumping between fandoms.
Wait... how are Professor Trelawney and Chip going to be in both "Harry Potter" and "Beauty and the Beast"...?
DO THEY HAVE A TIME TURNER THAT ALLOWS THEM TO BE IN BOTH AT ONCE?
OK, Kelli. Calm down. Professor Trelawney literally isn't real and cups can't talk. Movies aren't real. We've worked on this. Be cool.
Uh, looks like I've got some ~me~ stuff to work through before this movie comes out on March 17.
But in the meantime, y'all can watch all of the majestic sneak peaks "Beauty and the Beast" has granted us with so far, and be sure to watch the Golden Globes tonight at 8 to see the new footage from the movie.