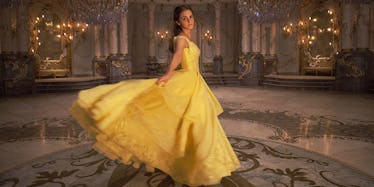 New 'Beauty And The Beast' Clips Are Here And Emma Watson Is The Perfect Belle
Walt Disney Studios Motion Pictures
The wait is over... well, not totally, but almost. Disney just released not one, but TWO new TV spots for the upcoming live-action remake of "Beauty and the Beast."
Back in August, the very first photos for Emma Watson's latest project spread around the internet like wildfire.
Even then, it was quite clear the perfect actress had been cast to play the fifth Disney princess and we hadn't even seen a full trailer yet.
Fast-forward just a few months later, and we've been blessed with a leaked song and two new clips promoting the upcoming film. Just like those early set photos, these clips just further prove the point that Watson is the perfect Belle.
The first 30-second "Beauty and the Beast" clip is simply titled "You Can Talk." Prepare for pure awesomeness.
Yup, she's the one. Director Bill Condon and the rest of the team nailed it!
Josh Gad (who plays LeFou) was right when he said this is going to be much more than a remake. It's magical AF.
This particular clip racked up over a million views on YouTube in under a week. That's all the evidence you need to prove the world cannot wait for March when the live-action remake of "Beauty and the Beast" is set to be released.
The second clip, titled "Charm Her," features the Beast's companions Cogsworth, Mrs. Potts and Lumiere.
In just that clip alone, you can learn a thing or two from the Beast's support team.
The thoughtful characters advise him,
You must charm her — be gentle, kind, sweet.
Yeah, you MUST. I mean, this is Emma Watson, er, Belle we're talking about here!
While these new clips are clearly designed to get you super pumped up for the upcoming release, the full trailer got the job done when it racked up over 127.6 million views in just 24 hours after premiering on November 14 last year.
In case you were wondering, the trailer for "Beauty and the Beast" beat out "Fifty Shades Darker" for the most watched trailer EVER.
That tells you everything you need to know about the craze surrounding its release on March 17.
You might want to clear your schedule that day!
The film is also set to star Josh Gad as LeFou, Kevin Kline as Maurice, Luke Evans as Gaston, Stanley Tucci as Cadenza and Dan Stevens as the Beast.