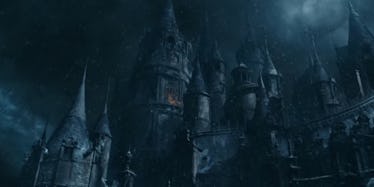 Josh Gad Says New 'Beauty And The Beast' Will Be More Than Just A Remake
Disney
Josh Gad talks about the CGI in the new "Beauty and the Beast" movie much in the same way soldiers in World War II movies talk about their mothers' cooking from back home.
Next March, we're all getting blessed with a live-action version of the Disney classic starring Emma Watson, Ian McKellen, Ewan McGregor, Kevin Kline and Stanley Tucci.
Listen! Don't feel guilty for having too much of a great thing happen to us in 2017. We've all had a dumpy 2016, we all deserve this mid-year gift.
At the Children's Hospital Los Angeles Once Upon A Time Gala, Josh Gad, who plays Gaston's dopey consigliere Le Fou, spoke about how pumped he is for the movie's release, and if you weren't already excited for this movie, listen to him talk about the CGI behind the Beast.
He told reporters,
Having seen [the CGI Beast], I can tell you that [fans] are going to react appropriately awestruck and amazed... Dan's performance is just incredible and gives it a gravitas that grounds the entire movie... nothing short of magical.
Later he went on to explain fans of the original are going to love the new version, saying,
It evolves [from the original], like 'Jungle Book' evolved from the source material, like 'Cinderella' evolved from the source material. But it goes further into the trenches in terms of the mythology and in terms of the characters. And there's a scope to it and a pathos to it that, having seen it, I can tell you is unexpectedly very emotional. I just think the new music as well as the old music is going to blow everyone away.
If you're having problems waiting until the March release date, you can do what the rest of us are doing and just watch the first trailer on repeat.
Citations: Josh Gad Teases Magical Beauty The Beast Remake (Refinery29)